With our February selection, the Asymptote Book Club is taking subscribers back to school. Fortunately, Zsófia Bán's Night School is a school unlike any other—populated by a cast of literary and cultural figures ranging from Frida Kahlo (and her double) to Laika the space dog. Each chapter of Bán's textbook primer is filled with 'defiant irreverence' and the perfect combination of wit and profundity.
We're delighted to be sending our subscribers one of the year's most coruscatingly original short story collections, in Jim Tucker's superb English translation. If you'd like to join us in time for next month's Book Club pick, you'll find all the information you need on our web page. Once you've joined, head to our Facebook group to meet other Book Club members and contribute to the discussion. We look forward to seeing you there!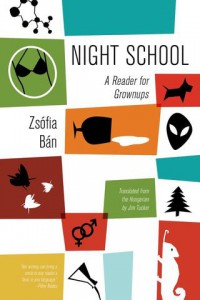 Night School: A Reader for Grownups by Zsófia Bán, translated from the Hungarian by Jim Tucker, Open Letter, 2019
Reviewed by Jacob Silkstone, Assistant Managing Editor
Let's begin with a simple biographical detail: Zsófia Bán has spent much of her life in academia, and her first novel (originally published in Hungarian in 2007) is a textbook. It seems barely necessary to add that Night School is a textbook like no other.