ANNOUNCING THE WINNERS OF THE 2019 CLOSE APPROXIMATIONS CONTEST!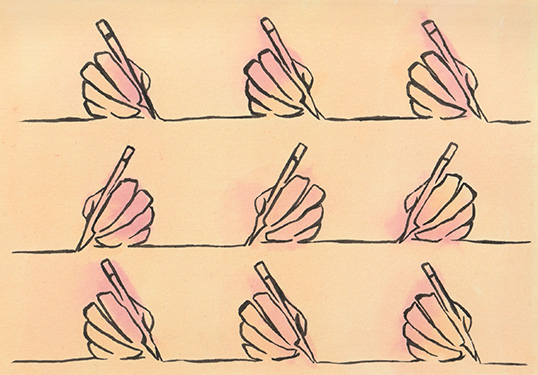 The results of our fourth Close Approximations translation contest are in! From 136 Fiction and 98 Poetry submissions, esteemed judges Edward Gauvin and Eugene Ostashevsky picked one winner and two runners-up in each category to receive
USD1,000
 and
USD250 
 in prizes respectively! All winners are showcased in our
Winter 2019 edition
, and the judges' citations are below.
As always, this contest is made possible by your support for
Asymptote
. (Despite a London Book Fair award under our belt, we do not receive institutional support on any ongoing basis.) Sustaining members are the backbone of our mission to advocate for emerging translators, as well as for a more inclusive world literature. Help us toward another edition of our contest by signing up from as little as $5 a month! 
Join the Asymptote family today!
Fiction Winner (judged by Edward Gauvin):
Olivia Hellewell for her translation of an excerpt from Katja Perat's The Masochist

Fiction runners-up:
Kevin Gerry Dunn for his translation of an excerpt from Daniela Tarazona's The Animal on the Rock
Alison McCullough for her translation of an excerpt from Tore Kvæven's When the Land Darkens
Poetry Winner (judged by Eugene Ostashevsky):
Daniel Owen for his translation of a selection of poems from Afrizal Malna's Document Shredding Museum

Poetry runners-up:
 Catherine Platt for her translation of a selection of poems from Han Bo's The Western Days
 J. Bret Maney for his translation of a selection of poems from Fiston Mwanza Mujila's The River in the Belly

Edward Gauvin's citations
James Merrill, in bestowing the Yale Younger Poets Prize one year, is rumored to have rhapsodized, "At last! A young poet with nothing to say." Over time his encomium has lost, at least for me, what ironic barb it might have had, in favor of relieved sincerity. Chalk it up to occupational hazard. And this, I confess, was how I first approached the task of judging so kindly entrusted to me by the good folk of
Asymptote
: as if felicities of pure linguistic form might be rended from content for critical mulling.
But translations, though they may provide windows, are not panes of glass. And of course translators are always saying something, with their choices: not only of words, but of works. As literary types, we all know that disappointed twinge when a book urgently pressed upon a friend goes unread, but translation may be the most participatory form of recommendation. It is at some level a plea for the validation of taste, from which not just self and love but labor are inextricable. (I'm assuming, perhaps wrongly, that one does not enter a contest with a commission.)
In judging, I was spoiled for choice, treated to a feast of concerns and stylistic approaches: mistaken identity, racial invisibility, refugees and border crossings, eating disorders, dialectal variations within a single language, fairy tales and formal exercises, multiple meditations on the ravages of age, and surprisingly (or not, given market forces), more novel excerpts than short stories. Arthur Goldsmith has called translation a "concatenation of thousands of small choices." In this way judging felt similar, except the factors I weighed compare neither in number nor complexity with those negotiated and, by a wide margin, overcome by these translators. I am impressed and heartened by the individual skill and collective catholicity of taste on display, both of which bode well for the future of world literature in English.
Fidelity, much vaunted, is never to an absolute, but rather selected factors.
Olivia Hellewell
's first-prize winning translation of
Katja Perat
's
The Masochist
from the Slovenian won me over with its vivid and sustained feat of voice, part bitterness, part
bons mots
. The purported memoirs of one Nadezdha Moser, the novel nestles uncomfortably in history, trying to find a place for its central figment at once foundling, Freud's patient, and the adopted daughter of Leopold von Sacher-Masoch. Novels of ideas are so often stillborn at premise, but Hellewell's faith in this ingenious and singular character makes her spring full-fledged from the dark wood of folktale into difficult European modernity.
Daniela Tarazona
's
Animal on the Rock
is a strange Rubik's Magic of a story: flowing, folding, and refusing familiar form. Like a phoenix, it consumes itself repeatedly, only to rise as something different from the story I thought I was reading. All the more marvel, since sentence to sentence, runner-up
Kevin Gerry Dunn
's Spanish maintains the absolute simplicity of its assertions, never tentative yet somehow elusive, punctuated by startling lyricism. What emerges is a portrait of grief—diffuse, distraught, associative, unmoored—over a mother's death.
Plain speech, I've been told, is the style of the honest person. So runner-up
Alison McCullough
's translation from Nynorsk Norwegian of
When the Land Darkens
by
Tore Kvæven
embodies honesty and its affiliate qualities. The pleasures of her language, like those of Kvæven's story, are immediate, deep, and durable. It can be tricky, I find, to reconstruct relations in physical space with exactitude when crossing that abstract space between languages, and McCullough acquits herself admirably in action scenes of walrus hunting.
In matters of taste there is no dispute, so they say, though I find that, just as in translation, there is nothing but. Translators are fallible; so are judges. As both, I console myself with the prospect of infinity, which Borges found so horrifying. In his Library of Babel there exists not only every issue of
Asymptote
(of course), but every version of this issue, in which every possible permutation of every translation was preferred by every possible permutation of myself… or someone else equally fortunate to have been granted the task. Let there be no end to the making of books. 
Eugene Ostashevsky's citations
I am very grateful to Lee Yew Leong for inviting me to judge this year's poetry translation contest and to Aditi Machado and Garrett Phelps for reducing the submissions to a pool I could handle. There was lots of terrific and eloquent work with originals from many countries and continents. I used to believe that excellence in translation comes from the very transmission of linguistic and poetic information, but I now I see that the choice of source text—its capacity to speak to target culture—is itself of the utmost importance, and that the profession of the translator also intersects with that of the curator, as well as that of the scholar.
This year's first-prize winning submission is by
Afrizal Malna
, working in Indonesian, and his translator
Daniel Owen
. Malna's refined, mature, and elusive lyric accumulates sentences rife with strange recursions and logical and metaphorical paradoxes. It sequences "poetic"—because spare—objects in order to at least try coming to terms with Indonesian history, both colonial and postcolonial: with the violence and the haze of it. "December is a straight ruler, very straight, / and broken in its straightness," begins one poem whose imagery of rulers and broken lines can be deciphered to evoke marine mapmaking, and—by extension—the plantations of the Dutch East Indies. Another poem glances critically at more recent history on the eve of Indonesian Independence Day: "
our nation / is free
. Free to take a holiday from history / and install electrical poles at the bottom of the sea." This intellectual poetry of the highest caliber, marked by its poetic language and thematic concerns as postmodern (Malna was born in 1957), will certainly appeal to American readers of Michael Palmer, Michael Davidson, and perhaps even Susan Howe. Malna's translator, writing in an elegant, reserved English, has offered us a beautiful thing of clear obscurity, and that is already a great achievement.   
Shanghai poet
Han Bo
and his translator
Catherine Platt
are also to be lauded for their manuscript
The Western Days
, inspired by the poet's 2009 sojourn as an International Writing Program fellow at the University of Iowa. These poems are fun and funny and muscular: "despite lives lived in different rooms / Death will be spent in the same grave," goes one snapshot of a marriage. Many deal with the shadow of 9/11 and other American things as seen through the eyes of a bemused foreign tourist, most likely the only guy on the block who understands that there exist other countries and other ways of life: "Tooth decay represents the bride, / The trash can represents the marriage contract, / The Third World represents the wedding night." The poems also insist on their deep connection with classical Chinese tradition, with allusions to Du Fu, Han Shan, and other masters: here, as always, the paradigmatic modernist move of abrupt juxtaposition feels organically connected to the Chinese heritage. The translator makes sound gestures that apparently convey patterns in the original, because of the semantic parallelisms that accompany them. Her English text is lovely and a pleasure.
Finally,
Fiston Mwanza Mujila
, a francophone poet from the Democratic Republic of Congo, and his translator,
J. Bret Maney
, deserve to be singled out for the selected "solitudes" from Mujila's
The River in the Belly
. The river in question is, of course, the Congo, and the lines that gave rise to the title are: "Not blood but the Congo River / sloshes in my veins… / If you deny it, if you have your doubts, if you don't believe me, take a sharp object (a steak knife or bayonet will do) and cut me open, slice me up, skin me from belly to belly, from head to foot." As can be seen from these lines, the poet (currently an exile in Austria) thinks back not only to his native river, but also to the almost constant multi-agent civil war that has eviscerated the Congo over the past decades: it is both the bloodiest conflict of our time and one of the least noticed. Runner-up Maney very capably conveys the intonations and registers of the original in this faithful and beautiful rendering.
* * *


Edward Gauvin (Fiction) has received prizes, fellowships, and residencies from PEN America, the National Endowment for the Arts, the Fulbright program, Ledig House, the Lannan Foundation, and the French Embassy. His work has won the John Dryden Translation prize and the Science Fiction & Fantasy Translation Award, and been nominated for the French-American Foundation and Oxford Weidenfeld Translation Prizes. Other pieces have appeared in The New York Times, Harper's, Tin House, and Subtropics. The translator of more than 300 graphic novels, he is a contributing editor for comics at Words Without Borders, and has written on the Francophone fantastic at Weird Fiction Review. In Spring 2019, he will be teaching at the 5th Annual Bread Loaf Translators' Conference.


Eugene Ostashevsky (Poetry) was born in Leningrad, grew up in New York, and lives in Berlin. As translator from Russian, he works primarily with OBERIU, the 1920s-1930s underground circle led by Daniil Kharms and Alexander Vvedensky. His collection of Alexander Vvedensky's poetry, An Invitation for Me to Think (NYRB Poets, 2013), with contributions by Matvei Yankelevich, won the 2014 National Translation Award from the American Literary Translators Association. His as-yet-unpublished project on OBERIU Conversations by Leonid Lipavsky won a translation fellowship from the NEA. Finally, his moonlighting in Italian as a co-translator of Elisa Biagini's The Guest in The Woods helped her win the 2014 Best Translated Book Award from Three Percent.