What an overwhelming ten days since the launch of the Asymptote Book Club! We received queries from as far afield as Australia and Canada—so much interest from Canada, in fact, that we decided to open our book club to Canadians four days ago. But why a book club in the first place? some asked. Well, in a nutshell: the idea was to take the important work we have done with our award-winning, free online journal and our Translation Tuesday showcases at the Guardian—that is to say, showcasing the best new writing from around the world, and giving it a physical presence outside of the virtual arena. We also wanted to celebrate (as well as support) the independent publishers who work hard behind the scenes to make world literature possible.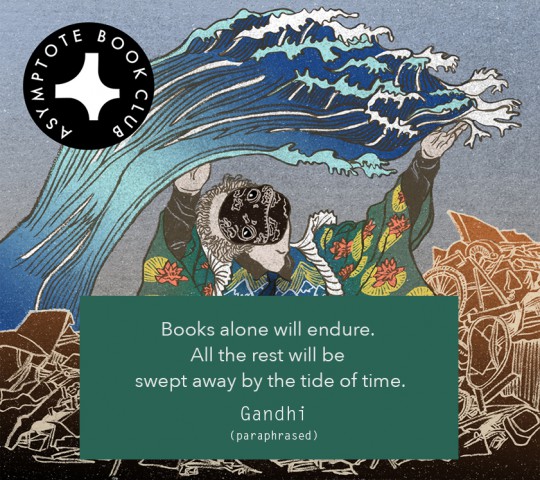 What sets your book club apart from others?
Curation is a big part of what makes the book club special. We have a large team of editors based in six continents to research and pick the best titles available from a wide variety of publishers. Subscribers will receive a brand-new (just published or, in many cases, not even in the bookshops yet), surprise work of fiction delivered to their door each month. This is another thing that distinguishes us from a few other book clubs before us: we choose from new releases only—nothing from a backlist that readers may already have on their bookshelves.
Subscriptions are for three or 12 months (for as little as USD15 a month, shipping included!) and, depending on the package the subscriber picks, they may receive additional perks in the form of Asymptote merchandise and ebooks (see below), but the real focus here is on creating a serious book club for a dedicated reading public. Many subscription services focus as much on the gifts as the books themselves, but we do not see ourselves as experts in tea or socks, so we're concentrating rather on ensuring our readers get their hands on the most amazing literature we can source, applying the same curatorial instincts that won us a London Book Fair Award in 2015. READ MORE…