ANNOUNCING ASYMPTOTE'S SECOND RECRUITMENT CALL OF 2019!
The remaining positions are still open for our final phase of recruitment. Deadline to apply: 21 May 2019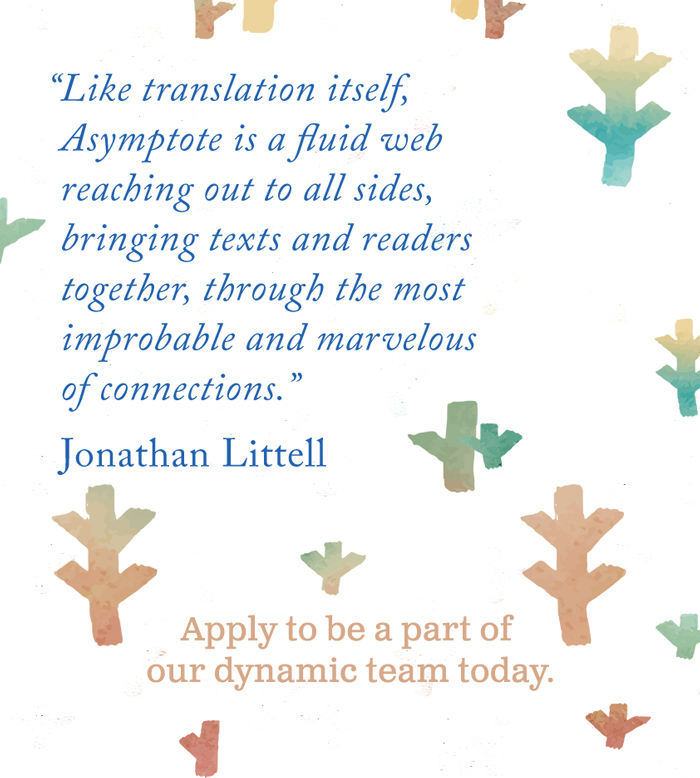 "The epoch of world literature is at hand, and everyone must strive to hasten its approach," Goethe was thought to have said. If you happen to be a world literature enthusiast looking to make a real difference in world literature, consider applying to our dynamic team. Among a growing number of journals with a focus on translation,
Asymptote
has distinguished itself with the diversity, the generosity, and the freshness of our offerings (we're also the first magazine to win the London Book Fair Award for International Literary Translation Initiative!). This is made possible by a team comprising close to ninety staffers across five continents. Most of our editors are plugged into their local scenes, continually deepening their knowledge of local literature by forging partnerships with literary institutions and bringing exciting new discoveries to the table. It is unfortunate that magazines with key editors and position-holders of non-White or non-Western backgrounds are still a rarity in English-language literary publishing; therefore, we pride ourselves in being an inclusive journal—which is reflected not only in the names we feature on our covers, but also on our masthead.
If you are considering a career in world literature, 
Asymptote
also
provides the perfect training ground. Former
Asymptote 
staff have gone on to take up positions at The Wylie Agency, David Godine, Penguin Books, Dalkey Archive, and 
Words Without Borders
.  
All volunteer positions are listed below. Three-month internships can also be arranged for most positions, but permanent staff members looking to be involved for at least a year (for the editorial roles especially) are preferred.
*

"Not only aren't there many magazines like this, there actually aren't any... at all... anywhere"

—Michael Stein, Literalab

EditorialPoetry Editor


We seek a Poetry Editor who will take over the task of curating the Poetry section in our quarterly editions. Applicants should be familiar with the world literature scene, possess a refined sensibility for poetry, and have experience with either editing translated poetry or with translating poetry itself. They should also demonstrate resourcefulness and have solicited material before. Please include a sample of your work with your letter of application and CV.
Nonfiction Editor

Applicants for the Nonfiction Editor role should possess a passion for
creative
 nonfiction, and be knowledgeable about its different modes. Familiarity with the world literature scene (in particular, the subset of literary translation), as well as translation and editorial experience are assets we look for. Practitioners of literary nonfiction are also encouraged to apply. Finally, candidates should also demonstrate resourcefulness and should have solicited material before. Please include a sample of your work with your letter of application and CV.
Assistant Editor
Assistant Editors help to weigh in on slushpile submissions as well as shortlisted
Asymptote
Book Club titles; they also undertake research into underrepresented languages and regions. Applicants should be familiar with the world literature scene, possess a refined sensibility for contemporary literature, and have experience soliciting work. Please include a sample of your work with your letter of application and CV.
Editor-at-Large
We recently added new editors-at-large for Lebanon and Uzbekistan. We'd like to extend our network even more to ensure a constant stream of quality content from underrepresented languages and regions. We welcome applicants from other parts of the world, especially but not limited to: Africa, the Middle East, Latin America, and Southeast Asia. Editors-at-large also help to promote our journal locally, explore partnerships with local journals and even organize events (though the last is not a necessary requirement).
Newsletter Editor
We seek a Newsletter Editor to curate our Fortnightly Airmails sent out to 6,000 subscribers. The candidate must demonstrate impeccable copy and organizational skills, and a familiarity with the world literature scene. He or she should also be able to work to a deadline. Please submit a suitable writing sample along with your application materials.
Management and OperationsAssistant Managing Editor
Do you have experience motivating and supervising a virtual team? If you would like to apply your organizational and management skills toward our mission of catalyzing the transmission of world literature, we would like to speak with you.
Executive Assistant
The Executive Assistant role is one of the most important positions in the team, offering a bird's eye view of the magazine's operations. An executive assistant may be tasked with uploading the magazine's content, coordinating internal or external communications, maintaining staff dossiers, compiling webstats, and other miscellaneous tasks that keep the magazine going. Candidates should be detail-oriented, and good at organizing.
Marketing, Communications, and Social Media
Marketing Manager
Our Marketing Manager should be someone familiar with advertising and have considerable knowledge of worldwide literary platforms, bookstores, and other institutions with which
Asymptote
can form partnerships. In addition to planning publicity campaigns around our issues, the Marketing Manager also helps us to expand our Book Club as well as push other initiatives.
Communications Manager
We're looking for a third Communications Manager to help with communications on Social Media, the Blog, and in our Newsletter. This Communications Manager will help to generate external communications (including, but not restricted to: press releases, mailers, media kits, interviews, etc.) and maintaining certain internal documents (e.g. the
Asymptote
orientation manual). Only the most meticulous candidates, capable of generating impeccable copy, need apply.
Social Media Manager (English)


Social Media Managers are responsible for 
Asymptote
's online presence—not just in terms of promoting the journal's content but transforming our social media platforms into hubs for news and discussion about world literature. Applicants should be versatile, savvy with digital content, and have experience in publicity. If you have experience with Instagram or Pinterest, we'd love to hear from you especially.
Social Media Manager (French)
Same as above, but in French. If you have relevant social media experience and native French ability, and are willing to help us to develop our 
Asymptote en français Facebook page
, we'd love to hear from you!
Social Media Manager (Spanish)
Same as above, but in Spanish. For the short term, we are keen on developing our 
Asymptote en espanol Facebook page
, in order to reach even more readers from the Spanish-speaking world.
Design and Multimedia
Graphic Designer
Crucial to maintaining our aesthetically particular brand image, good Graphic Designers are always in high demand at
Asymptote
! Team members in this role cover the graphic design needs of our many platforms (ranging from print to online, to even ebook design). Please submit a portfolio along with your application.
Merchandise Designer
To commemorate our eighth anniversary, we hope to roll out a new series of
Asymptote
memorabilia, ranging from tote bags to T-shirts. Candidates should have experience with merchandise design. Please submit a portfolio along with your application.
Video Producer
The Video Producer will conceive and produce dynamic video trailers for our issues, such as these trailers for our
Winter 2014
and
Fall 2015
issues. Along with other publicity material that might also be commissioned, these videos will be shared on our social media platforms. Candidates should have strong video production skills. Please submit a portfolio along with your application.
Sustainability
Business Developer
We seek a business developer (ideally with some experience in Internet-related publishing) to help conceive and launch sustainablity projects like our
Book Club
.
* * *


All
Asymptote
staff work from home and communicate via email and Skype or gmail chat.
To apply for any of these unpaid positions, please send a cover letter (as a Word doc or in the body of the email please!) explaining why you'd like to join our team and a copy of your CV to
editors@asymptotejournal.com
, with "APPLICATION:" and the position(s) you're applying for in the subject line. Take note that most positions will start out with a 3-month orientation (requiring a commitment of 8-10 hours a week) during which you will get to know the journal and your fellow team members. After this orientation period, we will evaluate your performance and determine your future role with
Asymptote
. (Hours will come down to 6 to 10 hours a week, depending on which permanent role you've taken with us—some project-based positions may not even require a weekly commitment.)
If you want to be part of the movement to usher in a more inclusive world literature, send in an application today!
Note: As a rule, we usually get back to our applicants with an outcome within a month but sometimes it may take up to three months to determine the right candidate for our openings. Thank you for your patience!