OUR CURRENT OPENINGS

Deadline to apply: Until Positions Filled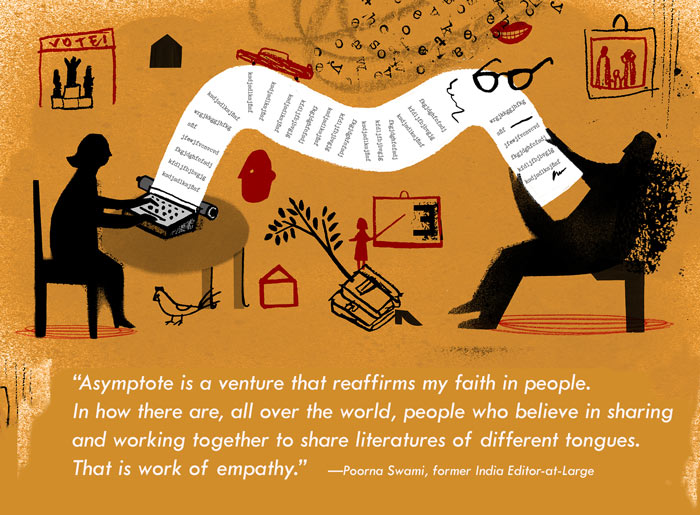 Winner of the 2015 London Book Fair Award for International Literary Translation Initiative, 
Asymptote
 is the premier portal for world literature in translation. Among a growing number of journals with a focus on translation,
we've distinguished ourselves with the diversity, the generosity, and the freshness of our offerings. This is made possible by a team comprising
close to ninety staffers
across
six continents
: our editors are based across the world. Many are plugged into their local scenes, continually deepening their knowledge of local literature by forging partnerships with literary institutions and bringing exciting new discoveries to the table. It is unfortunate that magazines with key editors and position-holders of non-White or non-Western backgrounds are still a rarity in English-language literary publishing; therefore, we pride ourselves in being an inclusive journal—which is reflected not only in the names we feature on our covers, but also on our masthead.
If you are considering a career in world literature, 
Asymptote
also
provides the perfect training ground. Former
Asymptote 
staff have gone on to take up positions in Dalkey Archive,
Words Without Borders
, The Wylie Agency, David Godine and Penguin Books.  
All volunteer positions are listed below. Three-month internships can also be arranged for most positions, but permanent staff members looking to be involved for at least a year (for the editorial roles especially) are preferred.

Operations

Executive Assistant
The Executive Assistant assists in the journal's day-to-day operations. The Executive Assistant may be tasked with preparing communications, maintaining staff dossiers, compiling webstats, internal and external liaisons, as well as other miscellaneous tasks. Candidates should be detail-oriented, and good at organizing.



Marketing, Communicatons and Social Media
Communications Manager
We're looking for a second Communications Manager to join our Communications Team. The Manager is responsible for generating all external communications (including, but not restricted to: press releases, mailers, media kits, interviews, etc.) and maintaining certain internal documents (e.g. the
Asymptote
orientation manual). Only the most meticulous candidates, capable of generating impeccable copy, need apply.
Social Media Manager (English)


Social Media Managers are responsible for 
Asymptote
's online presence—not just in terms of promoting the journal's content but transforming our social media platforms into hubs for news and discussion about world literature. Applicants should be versatile, savvy with digital content, and have experience in publicity. If you have experience with Instagram or Pinterest, we'd love to hear from you especially.
Social Media Manager (French)
Same as above, but in French. If you have relevant social media experience and native French ability, and are willing to help us to develop a
Asymptote en français
Facebook page, we'd love to hear from you!
Social Media Manager (Spanish)
Same as above, but in Spanish. For the short term, we are keen on developing an
Asymptote
en espanol Twitter feed, in order to reach even more readers from the Spanish-speaking world.
Educational Arm
Educational Arm Assistants
We're looking for new team members with passion for and experience in pedagogy to help us bring world literature into classrooms. Educational Arm Assistants will help to generate our quarterly educational guides, pedagogy-related blog content, as well as outreach efforts for the educational arm. For more information and all educational resources that we have produced in the past, please refer to our
Asymptote for Educators
informational page
here
.
Sustainability
Business Developer
We seek a second business developer (ideally with some experience in Internet-related publishing) to help us conceptualize and implement a business model that will pave a way toward sustainability.
Design and Multimedia


Merchandise Designer
To commemorate our seventh anniversary, we hope to roll out a new series of
Asymptote
memorabilia, ranging from tote bags to T-shirts. Candidates should have experience with merchandise design. Please submit a portfolio along with your application.
Responsive Layout Designer
The Responsive Layout Designer (or Responsive Layout Design Intern) will work closely with our existing Technical Manager to (re)design
Asymptote
's webpage layouts. The ideal candidate should have experience designing periodical layouts and have a strong interest in the potential applications of responsive web design for innovating and improving the way we read digital texts(-in-translation). Please submit a portfolio along with your application.
Video Producer
The Video Producer will conceive and produce dynamic video trailers for our issues, such as these trailers for our
January 2014
and
October 2015
issues. Along with other publicity material that might also be commissioned, these videos will be shared on our social media platforms. Candidates should have strong video production skills. Please submit a portfolio along with your application.
* * *


All
Asymptote
staff work from home and communicate via email and Skype or gmail chat.
To apply for any of these unpaid positions, please send a cover letter explaining why you'd like to join our team and a copy of your CV to
editors@asymptotejournal.com
, with "APPLICATION:" and the position(s) you're applying for in the subject line. Take note that most positions will start out with a 3-month orientation (requiring a commitment of 12 hours a week) during which you will get to know the journal and your fellow team members. After this orientation period, we will evaluate your performance and determine your future role with
Asymptote
. (Hours will come down to 6 to 10 hours a week, depending on which permanent role you've taken with us—some project-based positions may not even require a weekly commitment.)
Don't wait! Send in an application today!