Looking for new books to read this April? Look no further with this edition of What's New in Translation, featuring new releases translated from Thai, German, and Brazilian Portuguese. Read on to find out more about Clarice Lispector's literature of exile, tales of a collection of eccentric villagers, and a comic book adaptation of Bertolt Brecht.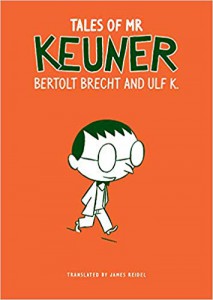 Tales of Mr. Keuner by Bertolt Brecht and Ulf K., translated from the German by James Reidel, Seagull Books, 2019
Review by Josefina Massot, Assistant Managing Editor
If Brecht's bite-sized, biting tales of Mr. Keuner can be thought of as a corpus, it isn't by virtue of their "what," "when," "where," or "how": they deal with everything from existentialism to Marxist politics, have often hazy settings, and run the gamut from parable to poem; it's the titular "who" that pulls these sundry musings together.
Until recently, their fellowship was purely formal: Mr. Keuner (also known as Mr. K) was practically nondescript, a mere "thinking man" whom Walter Benjamin traced back to the Greek keunos and the German keiner—a universal no one. This seemingly baffling figure would have made sense given the original tales' fifth W, their "why": since they were meant to edify general audiences, they would have gained from as null a champion as possible. After all, a man stripped of his traits is stripped of individuality, untainted by bias; he is the ultimate thinker, the voice of global truth. READ MORE…