November brings plenty of exciting new translations and our writers have chosen four varied, yet equally enriching and timely works: Bohumil Hrabal's memoir that is at once a detailed study of humans' relationship with cats and an exploration of dealing with mounting pressures and stress; a debut collection of Chilean short stories which explores social and economic difficulties and sheds light on some of the causes behind Chile's recent social unrest; Hiromi Kawakami's follow-up novella to the international bestseller, Strange Weather in Tokyo; and a novel set on the Chagos Archipelago which recounts the expulsion of Chagossians from the island of Diego Garcia and examines cultural identity and exile. Read on to find out more!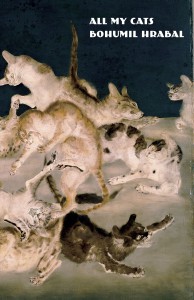 All My Cats by Bohumil Hrabal, translated from the Czech by Paul Wilson, New Directions, 2019
Review by Katarzyna Bartoszyńska, Educational Arm Assistant
Bohumil Hrabal's All My Cats is not for the faint of heart. Though fans of the author will recognize and appreciate the quirky humor and lyrical melancholy, one must also be prepared to take on the harsher aspects of the story, and I suspect that the uninitiated may find the descriptions of cats being murdered a bit much to take. The short memoir documents the author's relationship to the feral cats living in his country cottage in Kersko, and his anguished labors to brutally limit their number. It is a lovely homage, and a richly evocative account of the pleasures of feline companionship, with lush descriptions of their delicate paws and velvety noses. We become acquainted with each individual kitty and their distinctive markings, habits, and personalities, but these rhapsodic stories are punctuated by episodes of grim slaughter that are depressingly specific—a morose account of an awful deed. And so, gradually, horrifyingly, this becomes a book about guilt and how it shapes one's worldview, producing a strange reckoning of crime and punishment that reads retribution in the random alignments of events.
Witnessing Hrabal shuttling back and forth between his life in Prague and Kersko, we begin to notice that his concerns about his cats are combined with a steadily accumulating sense of anxiety and torment about his work, neighbors, and life. "What are we going to do with all those cats?" his wife asks, in an echoing refrain, as new litters of kittens, inexorably, arrive. The book is about the cats, but we start to realize that it is also not about the cats, not really, but rather, about how Hrabal struggles to manage the various stresses of his life more generally as he gains success and recognition as a writer. Haunted by his guilt over the murdered creatures, he surveys the world around him, reflecting on the relationship between art and suffering, and increasingly begins to feel that he is a plaything of fate, doomed to unhappiness, with no choice but surrender. READ MORE…