Curious about new titles in translation from around the world? We've got you covered here, in this edition of What's New in Translation.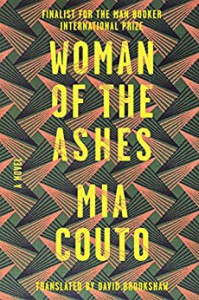 Woman of the Ashes by Mia Couto, translated from the Portuguese by David Brookshaw, World Editions, 2019
Review by Lindsay Semel, Assistant Editor
Mia Couto's Woman of the Ashes, translated from the Portuguese by David Brookshaw, is the first book of a trilogy called As Areias do Imperador (The Sands of the Emperor). It tells of the fall of the Gaza Empire in Mozambique at the hands of the Portuguese. Brookshaw's translation successfully elaborates on the original's rich images and themes while maintaining the ambiguity and contradiction that characterize the disordered world of war between cultures. Through its two narrators, the novel weaves together the threads of two archetypal narratives. The warp is a story of empire and war. The weft is a story of storytelling itself.
The year is 1894–5, the confused and bloody moment in which the Portuguese Empire replaces the Nguni as the leading force in a region full of once independent peoples. Alternating chapters consist of a series of letters from the Portuguese Sergeant Germano de Melo, ostensibly to his supervisor. The voice of the interceding chapters belongs to Imani, a girl from a tribe that's tentatively aligned itself with the Portuguese in the hopes of resisting the Nguni invaders. Having learned fluent Portuguese, she is appointed by her father to attend Sergeant Germano, himself a convict exiled for the crime of political action against the monarchy. These complementary characters find themselves dislocated from their people and sense of identity, stuck serving the very forces that sentence them to their own demise.