This week's reviews of the newest and most compelling translated literature include the latest work by Poland's preeminent writer, Olga Tokarczuk, a fascinating portrayal of manic self-interrogation and class by Stéphane Larue, and a darkly dionysian tale of the female gaze by the award-winning Nina Leger. Our editors burrow into the philosophy, language, and atmosphere of these three novels to give you some extra additions to your reading list.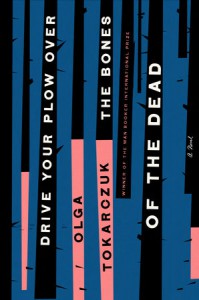 Drive Your Plow Over the Bones of the Dead by Olga Tokarczuk, translated from the Polish by Antonia Lloyd-Jones, Riverhead Books, 2019
Review by Andreea Scridon, Assistant Editor
Janina Duszejko is the kind of woman that many would call "eccentric": she's in her mid-sixties, often bordering on paranoia, and she's firmly convinced by astrology, absolute vegetarianism, and William Blake. In rural Poland, Janina—as she hates to be called—lives peacefully and in relative solitude as a guardian for the summer cabins surrounding her home. However, she quickly comes into conflict with the insensitive and barbarous hunters who reign over the area. The death of a neighbor escalates such tension, creating a series of mysterious murders that Janina will be privy to, and which will culminate in an unexpected twist.