March brings with it a host of noteworthy new books in translation. In today's post, Asymptote team members cover two novels set in the early twentieth century—Ida Jessen's A Change of Time and Marcus Malte's The Boy—along with Kim Yideum's Blood Sisters, an exploration of a young woman's traumatic coming-of-age.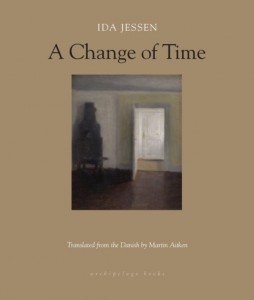 A Change of Time by Ida Jessen, translated from the Danish by Martin Aitken, Archipelago Books (2019)
Review by Rachael Pennington, Assistant Managing Editor
Weaving together diary entries, poems, letters (both opened and unopened) and song, Ida Jessen's A Change of Time, translated from the Danish by Martin Aitken, is a stirring reflection on death and mourning, loneliness, and female identity in a changing 20th century Denmark. Fru Bragge—almost always referred to by her married name—has just lost her husband. During a loveless marriage spanning more than two decades, she endured Vigand's lack of affection and derisive comments in silence. Although she has finally gained her freedom in losing him, she has also lost all direction in life:
I feel like a person standing in a landscape so empty and open that it matters not a bit in which direction I choose to go. There would be no difference: north, south, east, or west, it would be the same wherever I went.
It is in this vast landscape, the heathlands of Denmark, that she begins to sift through her memories, uncovering the girl she was before she became Fru Bragge. During the day, she welcomes courteous visitors who come to pay their respects and packs away her late husband's belongings for donation; during the evening, after darkness has fallen and the oil lamp in the window of her empty home is lit, she feels most comfortable. Here, surrounded by a "silence greater than silence" she writes in her diary, giving voice to a part of herself she had almost forgotten: "Thinking back, I almost feel envious of that young school-mistress. In fact, there is no almost about it."