From translations by heavyweights like Ann Goldstein and Jennifer Croft to novels by writers appearing for the first time in English, July brings a host of exciting new books in translation. Read on for coming-of-age stories set in Italy and Poland, a drama in rural Argentina, and the tale of a young man and his pet lizard in Japan.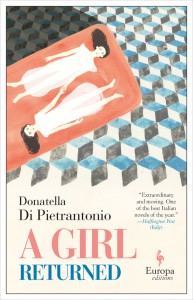 A Girl Returned by Donatella Di Pietrantonio, translated from the Italian by Ann Goldstein, Europa Editions, 2019
Review by Lindsay Semel, Assistant Editor
In A Girl Returned, Donatella Di Pietrantonio's award-winning novel, a nameless young woman retrospectively narrates the defining event of her adolescence—the year when the only family she has ever known returns her to her birth family. From the title, the reader can already sense the protagonist's conundrum. A passive object of the act of being returned, her passivity in her own uprooting threatens to define her identity. Ann Goldstein's searing translation from the Italian inspires the reader both to accompany the narrator as she wades through the tender memories of that time and to reflect on her or his own family relationships through a new lens.