The weekend is upon us—here's a detailed look at the week that was by our editors-at-large. In the United States, Madeline Jones reports directly from the trenches of the Book Expo in New York City. A gathering of publishers, booksellers, agents, librarians, and authors, the event is the largest of its kind in North America. We also have Sarah Moses filling us in with tidings from Colombia and Argentina, and updates on the Bogotá39, a group of thirty-nine Latin American writers considered to be the finest of their generation. Finally, Julia Sherwood brings us some hot off the press literary news from the Czech Republic. Settle in and get reading.
Madeline Jones, Editor-at-Large, reports from the United States:
Last week in New York City, Book Expo (formerly Book Expo America) set up shop at the famously-disliked Javits Center on western edge of Midtown Manhattan. Publishers, literary agencies, scouts, booksellers, and readers gathered for discussions about the future of publishing, meetings about foreign rights deals, publicity and media "speed-dating" sessions, and more. Authors and editors spoke about their latest books for audiences of industry insiders, and lines trailed from various publisher booths for galley signings.
Though the floor was noticeably quieter than previous years, and certainly nothing compared to the busy hub of foreign rights negotiations that the London and Frankfurt book fairs are, Asymptote readers will be pleased to hear that multiple panel discussions and presentations were dedicated to foreign publishers, the viability of selling translations in the U.S., and indie books (which more often tend to be translations than major trade publishers' books).
Europa Editions' Michael Reynolds led a talk called "The 'Elena Ferrante' Model: How independent publishers excel in promoting international literature" along with Stephanie Valdez of Community Bookstore in Brooklyn and translator Esther Allen, who pointed to the translator's role in bringing important projects to publishers: "Increasingly we have a population of translators who are genuinely motivated by a sense of vocation; who are out there in the world looking for these things and who understand the power that a translation into English can have."
PEN America also held a panel discussion called "The First Amendment Resistance" led by Brooke Gladstone of NPR's "On the Media." Before the discussion, the Executive Director of PEN America, Suzanne Nossel, accepted Book Expo's Industry Ambassador Award on behalf of the organization, saying, "While publishing is a business that cannot insulate itself from market forces, it's never been just a business…Publishers and editors have always been among our most vociferous supporters and our most powerful allies, and we need you now more than ever."
Gladstone opened the discussion between video game developer Zoe Quinn, Black Lives Matter co-founder Patrisse Cullors, journalist John Podhoretz, and author and lawyer Scott Turow about the ever more polarized political and media landscapes, saying, "We find as the anxiety rises, the ability to accept even minor challenges to your point of view…becomes greater and greater and riskier and riskier, so even as we speak in favor of more speech, we often find that we tolerate less." The conversation went on to primarily dissect Simon & Schuster's cancelled book deal with conservative provocateur Milo Yiannopoulos and his involvement in the misogynistic victimization of Zoe Quinn in what became known as Gamergate. Should publishers give personalities like Yiannopoulos a legitimized platform via book deals? Is that a defense of the first amendment, or condoning the author in question's active promotion of hate speech? Interesting and important points were made on both sides, though the discussion often felt haphazard and out of control, and the choice of panelists wasn't entirely clear or explained. I liked Patrisse Cullors' take: "For me, it's really simple: how is Milo impacting people's lives? We have someone on the panel who just said her life was threatened…Often times, we can get caught up in the really amazing American ideals, but if we just sort of look at the impact, the impact speaks for itself. Then we can have a stronger conversation."
There were also plenty of tech and market-focused topics covered. Goodreads' Communications Director Suzanne Skyvara led a session with St. Martin's editor Laura Clark about their strategic use of the Goodreads platform to drive sales of Bryn Greenwood's novel All the Ugly and Wonderful Things—a title initially rejected by a reported 122 agents before finally gaining representation and sale to St. Martin's Press. The title now has nearly 30,000 Goodreads reviews and hit the New York Times Best Sellers list four months after publication, representing an unusual sales track.
Sarah Moses, Editor-at-Large, Argentina, reporting on Latin America:
Early in May, the Hay Festival released its 2017 list of 39 exceptional Latin American writers under the age of 40. This year marks the tenth anniversary of "Bogotá39," a selection of young authors considered to be among the best of their generation. The writers will be invited to participate in events held during the Colombian edition of the festival, which will take place in Cartagena de Indias and other cities across the country in January of 2018.
The list is a diverse selection comprising short story writers, novelists and nonfiction writers from fifteen countries across South and Central America. Mexico topped the list with seven writers, although Colombia and Argentina were close behind, both with six authors each.
English-language readers interested in discovering the Bogotá39 authors are in luck: this year an anthology will be published in translation by UK press Oneworld, in addition to the Spanish edition to be released in Colombia by independent presses. A number of the authors' titles are already available in English, including Martín Felipe Castagnet's Bodies of Summer (Dalkey Archive Press, 2017), Carlos Fonseca's Colonel Lágrimas (Restless Books, 2016), and Laia Jufresa's Umami (Oneworld, 2016).
Many of the Bogotá39 were originally published by small or independent Latin American presses, a number of which will be present in Buenos Aires from June 9 to 11 for the sixth edition of the Feria de Editores. Envisioned as a space for the public to interact directly with independent publishers from across Latin America, this year's event will include more than 140 presses from Argentina, Brazil, Chile, Ecuador, Uruguay, and Venezuela. A series of talks and panels will also take place during the book fair, where authors working in a range of genres, from graphic novels to science fiction to essay, will be invited to discuss their work.
Julia Sherwood, Editor-at-Large, Slovakia, reports from the Czech Republic:
As a government crisis was playing out in the Czech Republic this spring, ending with the sacking of the country's Finance Minister, the billionaire Andrej Babiš, the literary world was celebrating with prizes galore. Margaret Atwood was awarded the Franz Kafka International Literary Prize on May 22 and will visit Prague to collect it in October. Writer and critic Sylvie Richterová received the 2016 Tom Stoppard Prize for her collection of essays on Czech literature (Eseje o české literatuře, Pulchra, 2016).
At Svět knihy (Book World), the Czech Republic's largest book fair and literary festival, held from May 11 to 14, Bianca Bellová presented her novel Jezero (The Lake), a recent winner of the European Literature Prize. Rights have already been sold to nine countries and the book outsold Nordic noir thrillers at the bookfair, even though the Nordic Countries (#ReadNordic) were this year's guests of honour. Bellová's agent Edgar de Bruin, of the Pluh literary agency in Amsterdam, and a prominent translator from Czech into Dutch, received the Jiří Theiner Award for his significant contribution to promoting Czech literature abroad.
Meanwhile, the Czech Literary Centre, the newly established institution charged with the promotion of Czech literature abroad, continues to be plagued by problems. Its first director resigned after only five weeks in office, and was replaced by poet and translator Ondřej Buddeus. Applications for residencies by foreign writers, translators, critics and literary scholars, one of the centre's vital promotional activities, closed on 1 June. Questions have been raised about how the residencies are organised and whether they meet the needs of translators. However, on June 5 the Czech Ministry of Culture in cooperation with Czech Literary Centre announced new grants for copyright costs, printing, design, promotion and excerpt translations.
Altogether thirty-three countries were represented at Book World, with Irish writer John Boyne, author of the bestselling Boy in Striped Pyjamas, being one of the biggest attractions. Prague-based French dramaturge Guillaume Basset chaired a discussion at one of the city's newest literary venues, the wooden zeppelin called Gulliver (see our earlier report here) at the DOX Centre of Contemporary Art (they were fortunate with the weather as on my own visit only a couple of weeks later, a sudden heat wave turned the venue into a furnace).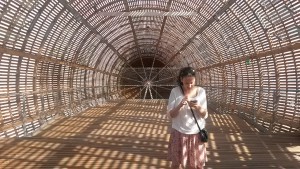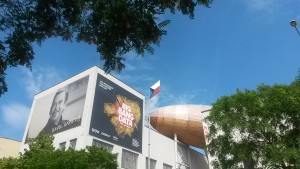 The zeppelin Gulliver at the DOX Centre of Contemporary Art
Basset challenged his three guests—Slovenian writer Aleš Steger (whose novel Absolution was recently published by Istros Books in an English translation by Urška Charney and Noah Charney, extract here), Macedonian writer Goce Smilevski and Portuguese author José Luis Peixoto—to discuss Milan Kundera's suggestion that the novel is "the most European art."
From May 18 to 21, hot on the heels of Book World, the Prague MicroFestival , a bilingual (Czech and English) literary event hosted renowned and underground authors from across the world, alongside film projections, music, performance and visual art, in a rich polyphony of art forms with an emphasis on experimental literature.
Not to be outdone in experimentation, the National Theatre has served up several innovative operas with literary roots. Krakatit, Václav Kašlík's 1961 opera based on Karel Čapek's 1922 utopian novel, premiered on April 20. Two weeks earlier, the theatre staged the world premiere of Jiří Kadeřábek's Žádný člověk (No Man). With its title based on a quote from Stalin, "No man, no problem," the opera is inspired by the life of Otakar Švec, an acclaimed Futurist sculptor, who in the nineteen fiftees went on to design the world's largest statue of Stalin and later committed suicide (Polish writer Mariusz Szczygiel captured Švec's poignant story in his book Gottland, translated by Antonia Lloyd-Jones). And on New Year's Eve, Prague audiences can look forward to the premiere of Don Hrabal, a new opera depicting the final years of writer Bohumil Hrabal.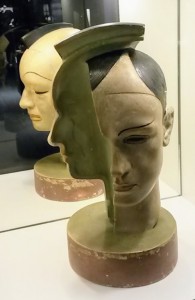 Otakar Švec's sculpture of the comedian duo Voskovec and Werich (1924)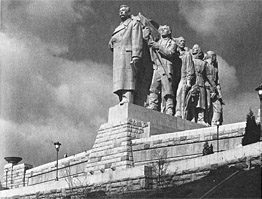 Otakar Švec's Stalin monument in Prague (1955)
****
Read more literary news from around the world: