It takes a while for the blog to hit its stride. Editing to a quarterly schedule is different than editing to a daily one, we quickly discover. It does not help that both 'founding' blog editors jump ship within three months (Nick's elegiac last post goes up on 30 October; Zack's 31 December). Fortunately, the rest rally and get us through. (One bright spot from that time is Patty Nash's breezy roundups—a breath of fresh air.) Five weeks after it inaugurates, Aditi Machado's post on the blog gets picked up by Poetry's Harriet Blog, joining mentions in BBC Culture and The Guardian. The Guardian article gives a nod to Asymptote's first-ever London event in January 2014, also the first of many multi-continental events in honor of our 3rd anniversary. These go on to include panels and readings in New York, Zagreb, Boston, Philadelphia, Shanghai, Berlin, and Sydney over the next three months. A point of pride: determined to organize an event in Asia, I somehow manage to pull off a reading without a single team member on the ground, thanks to NYU Shanghai, contributors Eleanor Goodman and Eun Joo Kim, and a friend who happens to pass through. In New York, under real threat of snowpocalypse, Asymptote supporters Eliot Weinberger, Robyn Creswell, Idra Novey, Jeffrey Yang, and Daniella Gitlin all show up to our anniversary event at Housing Works emceed by then Assistant Managing Editor, Eric M. B. Becker, to read alongside Cory Tamler, first prize-winner of our inaugural Close Approximations translation contest (as written up in WWB Daily's dispatch here). Here to get you excited for the Winter 2014 issue (featuring, among others, a translator's note that I got J. M. Coetzee to write) is Alexander Dickow, runner-up to that very contest and Asymptote Communications Manager since April 2017. But, first, check out Winter 2014's issue trailer—probably our best ever—by then Video Producer Sarah Chan.
I knew of Asymptote since its inception in 2011, but it was only in January 2014 that I was named runner-up in the first edition of Asymptote's Close Approximations translation contest. That contest has had a lasting impact on my work: I later won a Pen/Heim Translation Fund Grant to finish translating Sylvie Kandé's Neverending Quest for the Other Shore, which was first showcased in Asymptote and is now under consideration by a major publisher. Evoking the Winter 2014 issue of Asymptote, then, cannot not be a little about my own relationship to Asymptote, even though I was an eager young rookie among the issue's giants— J. M. Coetzee, Jana Beňová, and Michael Hofmann, to name a few.
But the greatest giant, to my eyes, is the truly towering 19th century Italian poet Giacomo Leopardi, who features in the issue twice on account of the massive philosophico-poetic diary called the Zibaldone, then about to appear from FSG. Jamie Richards and David Gibbons both comment at length on this work that also bears on my own history: a mentor, the poet and philosophy professor Jean-Claude Pinson, had once introduced me to the Zibaldone and its thought. I remember finding deeply compelling Leopardi's notion that life feeds upon illusions, that our intimate falsehoods—the lies we tell ourselves—are the price of our survival. Like many passages of the Zibaldone, the emblem of the struggling broom clinging to the mountainside has haunted me, just as it has generations of readers.
This monument of the past remains timely, but its age contrasts with the events of an urgent present. Living now under the shadow of Trump, the contents of the issue seem even more desperately near to us. Mustafa Khalifa offers a truly harrowing account of a Syrian prison— perhaps the notorious one in Tadmur—during the years of Hafez al-Assad's regime (1970-2000), reminding us that Syria's troubled story does not begin with its civil war or even Bashar al-Assad, Hafez's son. Fu-chen Lo and Jou-chin Chen depict a fragment of Taiwan's strife with China, while Jérôme Tubiana delves into the contours of conflict in Sudan and Chad. Finally, writer Hideo Furukawa's discussion with artist Yoshitomo Nara broaches the subject of the Tohoku tsunami and earthquake of March 2011, which produced the Fukushima nuclear disaster. Between these various natural and political cataclysms, the issue feels like a concentration of the geopolitical landscape of our early 21st century.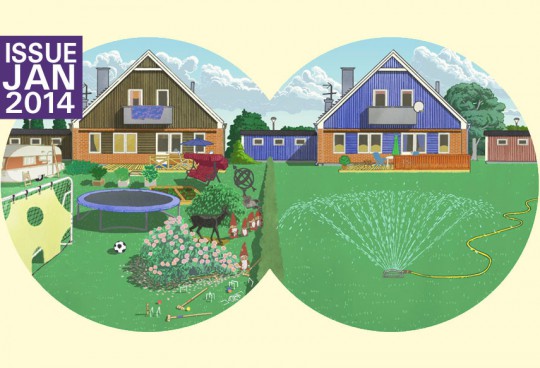 Yet in each of these pieces, there is something else at stake: even the most apparently journalistic pieces in the issue question the role of the creative imagination in the face of the present. In Furukawa's interview with Yoshitomo Nara, the conversation veers between the Tohoku disaster and a reflection on art. Unable to draw after the event, Nara had to reinvent himself as a sculptor in bronze, as a different kind of artist. Even the horror of trauma and catastrophe, it seems, can yield a kind of creative rebirth, though not without great cost.
Nara and Furukawa do not adopt the attitude of the witness, but a testimonial urgency does appear elsewhere in the issue, as in Mustafa Khalifa's horrific account. If a witness is one who confronts his experience, much art—perhaps the good as well as the bad—may avoid that confrontation and that lucidity, preferring to sublimate away the anguish and trauma. Elina Hirvonen's fiction piece, "Farthest From Death," offers a subtly ironic allegory of art as this sort of escape from the terror of the real. The narrator, a white-knuckle flyer, finds comfort in the shiny pages of an in-flight magazine: "The new-smelling paper in it carried me off to some time long ago, a time that felt not like real time at all, a mythical time that never was, like a fairy tale." Hirvonen asks us to consider whether art provides a similar illusion, a kind of vital falsehood without which one could hardly stand to live. Of course, the in-flight magazine is only a parody of art—but it might resemble art more than we'd like to admit.
And here we are, plunged back into the Zibaldone, where we also find in art the lifesaving comfort of illusion. I enjoy these secret passages—these signs of editorial design, whether conscious or otherwise—that appear when one closely reads an issue of Asymptote. Sometimes one even senses connections that are difficult to articulate, as between the remarkable visual artists of this issue—Jewyo Rhii, who builds discarded materials into installations reminiscent of Joseph Beuys and Jean Tinguely; Danny Aldred, who photographs the faded or discolored, weirdly evocative backs of library books; and a group of artists who work with the Korean alphabet known as Hangul. The association of letters and books seems natural, and Jewyo Rhii's installations do make abundant use of text (the article, after all, is called Trace of Speech), yet the affinity seems somehow deeper than that, residing somewhere in the imaginary worlds that books, alphabets, and Rhii's installations each uniquely involve.
Somehow, I haven't yet mentioned the genre closest to my own heart: poetry. I could wander in the spidery hallways of Emilio Villa's work for a long time, enjoying its irresistible torrential quality, its density. Nuno Ramos' "Ó," fiction runner-up for the Close Approximations contest, has the appeal of a poem to me; its detailed meditation on the body and the blemishes and irregularities of the flesh stands in for a reflection on language, as the piece's first title suggests: "Stains on the skin, language." I respond intensely to this equation of writing and vitality, this erotic yet ambivalent, almost disturbing, process where bodies are translated into books and books into bodies. There's something of this visceral language in Emilio Villa, too, in the "long / syllable, carnal like the corpus of separation and equality."
This logic of inscription could lead me back to the visual artists I mentioned above, with their alphabets and typewriters: another secret passage from one end of the issue to the other. There are plenty more. When I was a boy, before bedtime my father used to tell me a story he called "Rooms", which featured a hallway of infinite doors, each leading to another room, each more unexpected than the last. The last room, of course, was always home.
Alexander Dickow has been a Communications Manager with Asymptote since April 2017.
Want us to hold an event near you? The best way to make that happen is to join us as a masthead member or a sustaining member! 
*****
Read more from our #30issues30days showcase: