Join us on this edition of What's New in Translation to find out more about four new novels, from Amsterdam, Colombia, Russia, and Azerbaijan.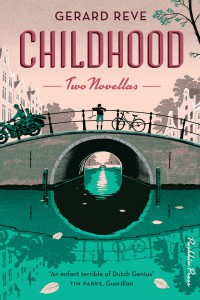 Childhood by Gerard Reve, translated from the Dutch by Sam Garrett, Pushkin Press, 2018
Reviewed by Garrett Phelps, Assistant Editor
The narrators in Gerard Reve's Childhood are at that credulous stage of youth where hazy moral lines are easily trespassed, where curiosity and cruelty often intersect. All of Reve's usual themes are here: taboo sexualities, the illusion of moral categories, the delicate balancing acts that prevent erotic love from teetering into violence. But the two novellas in Childhood transgress in unexpected ways, insofar as children's very inexperience puts them outside the sphere of sin.
The first novella, Werther Nieland, is told by a boy named Elmer, who bounces between friends' houses and other neighborhood locales, and whose longing to form a secret club is less a wish than an absolute necessity. After feeling an affinity for local boy Werther Nieland, he decides: "There will be a club. Important messages have been sent already. If anybody wants to ruin it, he will be punished. On Sunday, Werther Nieland is going to join." Why exactly Elmer is attracted to Werther never really gets explained. More confusing is the fact that as early as their first meeting Elmer feels the urge to abuse him.