From Icelandic landscapes to art history, August brings with it an exciting new selection of books. Whether you're looking for a book to pass the hot summer days, or are in the market for inspired poetry, the Asymptote team has something for you in this new edition of What's New in Translation. And if that's not enough, head over to the Asymptote Book Club for fresh reads, delivered to your doorstep every month!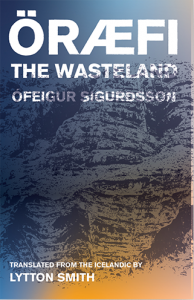 Öræfi: The Wastelands by Ófeigur Sigurðsson, translated from the Icelandic by Lytton Smith, Deep Vellum, 2018
Reviewed by Jacob Silkstone, Assistant Managing Editor
One of the many epic stories retold in Ófeigur Sigurðsson's Öræfi: The Wastelands ("that punctuation mark… both pushes words (and worlds) away from one another and means they're roped together," according to translator Lytton Smith) is the story of Öræfi itself. Formerly known as Hérað, the Province, a place in which "butter drips from every blade of grass," it was devastated by the most destructive volcanic eruption in Iceland's recorded history:
The chronicles record that one morning in 1362 Knappafjells glacier exploded and spewed over the Lómagnúpur sands and carried everything off into the sea, thirty fathoms deep… The Province was destroyed, all its people and creatures annihilated; no sheep or cattle survived, no creatures left alive anywhere… the corpses of people and animals washed up on beaches far and wide… the bodies were cooked and tender and the flesh so loose on the bones it fell apart.