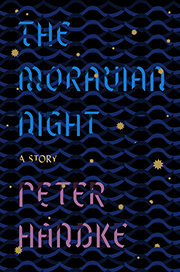 The Moravian Night by Peter Handke, tr. Krishna Winston, Farrar, Straus and Giroux
Review: Laura Garmeson, Assistant Copyeditor
Not long after midnight, with wintry constellations etched across the Serbian sky, a group of six or seven men make their way through the darkness from various nearby villages to approach the Morava River, a tributary of the Danube. They have been summoned by the owner of a houseboat moored by the riverbank, guided by its neon sign blazing the boat's name: "Moravian Night". Once on board, they are greeted by a man who was formerly a well-known writer. He extinguishes the glowing sign, calls for silence, and begins to tell the listeners his story.
So begins The Moravian Night, the latest shimmering, introspective novel to appear in English from the renowned Austrian author Peter Handke, translated from the German by Krishna Winston and published by Farrar, Straus and Giroux. Handke is no stranger to controversy, with his support for Serbia's Milošević in the 1990s provoking widespread outrage, and the alchemy of this work seems to draw from the political life and writing life of its author. Employing cameo appearances of characters from previous Handke novels and plot points about the fallout of Central European projects and failed Balkan states, Handke toys with reality, as he sees it, through the cracked lens of fiction.
The resulting book, which on the surface is the story of the nameless writer's journey across Europe from east to west, is really a travelogue of the mind. This obscured narrator travels through the Balkans, Spain, and Germany, retraces his own steps from previous decades, and reencounters figures who were once figments of memory: "the longer he walked the more he fell into his previous footsteps, footsteps of air". The parallels to One Thousand and One Nights are established in the book's first scene, and continue with the same undercurrent of danger and threat of death that forced Scheherazade's stories into being. The narrator seems impelled by the same threat in the dark on board the Moravian Night. Storytelling here is the antithesis of death – the recreation of a life – and a disrupter of time.