It is another month bringing us various gifts in the form of translated literatures, and our editors have selected the finest. Read below to find reviews of a short story collection detailing the various and complex natures of India, a haunting and poignant Swedish novel, unsettling tales from Israel, and a poignantly feminist work from Palestine.

A Kitchen in the Corner of the House by Ambai (C.S. Lakshmi), translated from the Tamil by Lakshmi Holmström, Archipelago Books, 2019
Review by Ben Dreith, Assistant Editor
C.S. Lakshmi, who writes in English and Tamil under the pseudonym Ambai, is a scion of post-revolutionary Indian feminism and women's studies researcher who was raised and educated in Mumbai, Bangalore, and New Delhi. Of her work, the most recent to appear in English is A Kitchen in the Corner of the House, a mellifluous and courageous work translated by Lakshmi Holström, a dedicated scholar who passed away in 2016. She will be missed, and her efforts, evident in the enduring legacy and themes of A Kitchen in the Corner of the House, may inform the concerns of Indian feminism in the English-speaking world for generations.
The book is a collection of stories, told from multiple voices and perspectives, which centers on the travails and aspirations of women across a broad socio-economic and linguistic spectrum. The voices in A Kitchen in the Corner of the House reflect the varied cultural expectations and norms that simultaneously thrive and jostle for distinction within the Indian nation, which can be too easily regarded as a seamless whole by outside observers. What unites the characters in the stories, though, is a keen sense of subjective solidarity amongst women who are draped in desperation—and hope.

While the stories offer layered metaphors and descriptions of domestic products, tasks, and cultural signifiers, the feminist critique is borne by Ambai's deeply introspective characters and narrators: "The women entered a world that was enclosed by wire on all four sides and reigned there proudly; it was their kingdom. They made earth-shaking decisions: today we'll have mutton pulao; tomorrow let it be puri-masala." These characters move thinkingly from the middle class to the subaltern, always conscious of the ways in which society restricts them and gives them room to spread out like so many branches.
Refreshingly, Ambai's stories are less concerned with the comparisons between India and the West and more with the linguistic, sectarian, and ethnic divides within the subcontinent itself. While the effects of colonialism are surely felt in the economics, diasporas, and applications of the English language, Ambai chooses to center the Indian women being affected. Temporal shifts that mix narratives, leaving readers lost in a deluge of subjectivity, place the stories—formally and descriptively—in the complex whorl of an Indian society moving through modernity. The psyche is put on full display, and the shaping of women under the constraints of both nationalized culture and traditional values is depicted with an unflinching certainty that combines familiar metaphors with an almost psychoanalytic rigor: "Agniye swaa-haa. Not impurities alone are burnt in the fire. Buds and blossoms too are blackened."
The deeply religious framework of Indian storytelling is brought to the surface and woven with contemporary concerns. In "Forest," the narrator weaves her present with memory and story, noting that, "The time has come to re-write the epics." And Ambai does just that; in "Trinsanku," a story that takes its name from a legend about an ancient king being denied from transcendence and then heaven itself, the protagonist is a beleaguered scholar constantly butting up against the glass ceiling of Indian academia. These stories excel in their wide knowledge of history and potential relevance as modern allegory, interrogating contemporary legends as well. The protagonist in "Wheelchair" deals with the exclusions and contradictions of Indian Marxism: "There is no difference whatsoever between a revolutionary and any other man when it comes to treading upon women."
However, the male characters in Ambai's stories are not one-dimensional. Their psyches, too, are probed. "Once Again" scatters fragments of thoughts across the pages, showing the repressed, yearning trajectories of two lovers and their descendants, who, despite all odds, thrive together in love. Generations are pitted against each other, split apart by misunderstanding and the breakneck pace of culture.
Above all, the language and descriptions of lived experience distinguish these stories from theory or realism. "Fish in a Dwindling Lake" gives some of the most stirring and potent descriptions of the extended, (meta)physical body that I have ever read. The women speakers offer their hands and advice in friendship to those who seek and take the time to understand them and their struggles and triumphs.
A Kitchen in the Corner of the House, in depicting "journeys which broke all decisions," illustrates in intimate detail the lives in a half century of Indian existence, from Tamil Nadu to Himachal Pradesh, as Ambai spreads her lyrical arms from the daughters of the revolution to the children of the diaspora. This is a book to hold close, re-read, and give bountiful attention to.

Welcome to America by Linda Boström Knausgård, translated from the Swedish by Martin Aiken, World Editions, 2019
Review by Daniel Persia, Editor-at-Large for Brazil
Sometimes the most haunting stories are the ones told by the quietest voices, by the people who absorb the world without letting even the smallest of details get away. An exemplifying case is eleven-year-old Ellen, the narrator of Linda Boström Knausgård's second novel, Welcome to America, translated from the Swedish by Martin Aiken. In the wake of her father's death, Ellen has stopped talking, stopped writing, stopped responding. But she hasn't stopped listening, and her thoughts unravel in a process that feels at times rational, at times incomplete, and at times unexpectedly mature for her age. We, the readers, are the only ones allowed to hear them—or so we are led to believe. Perhaps Ellen's version of the silent treatment says more about grief and fear than any words ever could.
Ellen's family has its idiosyncrasies: she lives with her mother, an actress who recently played a "fallen Statue of Liberty"; her brother, who pisses in bottles in his room and empties them when no one's around; and the memories of her mentally ill father, who had seemingly tried to kill them by leaving the gas on. Together, they were a "family of light," she says, both at the beginning and end of the novel. That was before mum had to take away dad's key, before her brother started nailing his room shut, and before Ellen started praying to God to kill her father (they'd killed him together, Ellen confesses, their first "collaboration"). Light, to Ellen, goes hand in hand with speech, and both continue to dissipate as she questions her place as a child in the world. Ellen seems to be in search of a light that was once inside of her; she observes the street lamps, "suspended like small, shining planets," and the cars that "[take] chances, accelerating to catch the lights before they [change]." Will Ellen change? Life surrounds her, and yet somehow she is left sitting in the bathroom with her hidden books, sandwiches, and fruit—her hideaway, where her brother can't pull out her nails and her mother can't take up the stage. As Ellen watches her brother and mother form new relationships that inevitably alter the dynamic of their home, she takes it upon herself to wash the dishes—to do some of the heavy "grown-up" thinking that calls into question faith, maturity, and memory. She remembers that other version of her brother, "the boy in the boat with the fishing net," who would watch the fish swim by, their father sitting beside them. "Was that the difference between the child and the grown-up?" she asks. "To be able to let light in, and then not?" To be able to enjoy the world, when all else seems at ease?
Readers looking for elaborate plot development, endless twists and turns, or sweeping dialogues might be disappointed with Welcome to America, but they would also be missing the point. Intentionally sparse and bare, Boström Knausgård's prose (through Aiken's translation) holds us, suspended, within Ellen's internal dilemmas; the external world is simply there, present, passing by. Ellen reminds us that there is beauty in silence, and that the empty spaces can (and do) fill our lives. She is attentive to the little things: how we know someone is gone because their shoes are no longer there; how we wait until everybody leaves the kitchen to go and open the refrigerator door; how we hold each other's words inside of us, even if they were never meant to stay. And so Ellen stays with us—not through her words, not in the notebook that her mother waits anxiously for her to use, but rather in the novel, thinking, questioning, a full human being at eleven years old, capable of teaching us that what we feel inside is a light, no matter how dim, or bright, it may be.

Fly Already by Etgar Keret, translated from the Hebrew by Sondra Silverstein, Nathan Englander, Jessica Cohen, Miriam Shlesinger, and Yardenne Greenspan, Riverhead Books, 2019
Review by Alyea Canada, Assistant Editor
There's something alien about the stories in Etgar Keret's new short story collection, Fly Already; the world the characters inhabit is familiar and yet a bit off. When combined with Keret's declarative sentences and matter-of-fact style, it feels as if the reader is observing rather than being immersed in the narrative. This off-kilter quality allows Keret to seamlessly blend speculation, Kafkaesque conceits, and absurdity in order to create moving portraits of loneliness and the limits of communication.
The most successful stories in this collection lean hard on the itching unsettledness in the back of the reader's mind. "Arctic Lizard" takes place in a dystopia where Trump was elected for a third term as president and the United States is using a Pokémon GO–style game to recruit child soldiers for the war against Mexico—yet that isn't the point. The political satire is sharp, but the story ultimately is about a child unable to cope with the demands of war. Similarly, "Tabula Rasa" is set entirely within the confines of an orphanage for children afflicted with "elderness," which causes them to age ten times faster than ordinary people. Doomed to die as teenagers, these children follow an individually designed curriculum, and are only allowed into the world upon passing a life-skills exam. It seems like a straightforward story of love and escape, but Keret rapidly deploys twists in the second and third acts to reveal an age-old philosophical question about empathy and revenge. Other stories, such as "GooDeed" and "Chips," fall short for their more conventional observations about human interactions. Keret favors quiet endings, many of the stories dropping off without a clear conclusion, leaving outcomes to the reader, but sometimes it is unclear exactly what we are meant to be pondering.
Not all of the questions posed loom quite so large, nor do all of the settings ring unfamiliar. Other stories are an intense look at personal relationships, or the lack thereof, which can make or break one's world. "The Birthday of a Failed Revolutionary" and "Pineapple Crush" convey the protagonists's overwhelming loneliness without pathos or judgment, and "Yad Vashem" demonstrates how personal loss can eclipse historical tragedy. An untitled story which unfolds within a series of emails is an excellent depiction of the quick escalation and one-upmanship all too familiar in online communication. The success of this story is due as much to its form as its content. By including the emails individually between stories rather than in succession, the reader is given the sense of having stepped away from their inbox certain they had the last word, only to return to yet another email from their adversary. Keret is at his best in Fly Already when he takes the space to fully render and explore the characters and worlds he has created, and is at his most playful in the more intensely character-focused stories, providing a welcome respite from heavier topics.
I found Fly Already to be frustratingly uneven as a whole. When Keret is on, he is on, starkly rendering the contrast when his stories fall flat. "Evolution of a Breakup" doesn't quite stick the landing, especially juxtaposed to "Pineapple Crush." Similarly, "Fungus" feels like an odd inclusion as "Todd" executed a similar idea better. There are twenty-three stories in Fly Already (including the untitled one), which is quite long for a short story collection, and there isn't a great variety in length with most coming in at five to seven pages. The result can lead to reader fatigue if you are someone who likes to read cover to cover.
Sondra Silverstein translated the bulk of the collection with contributions by Nathan Englander, Jessica Cohen, Miriam Shlesinger, and Yardenne Greenspan, several stories having previously been published in English, but an impressive coherence of voice is maintained throughout. From a man who clings to his evening ritual of smoking weed with a stranger, to angels left to maintain heaven after God dies, to children content to believe their father has transformed into a rabbit, the characters of Keret's stories are often alone but never hopeless. At its heart, Fly Already is about the everyday experience of loneliness, and the extremes we will go through to find a sense of connection.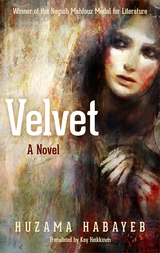 Velvet by Huzama Habayeb, translated from the Arabic by Kay Heikkinen, Hoopoe, 2019
Review by Chris Power, Assistant Editor
Velvet is a feminist novel, written by Huzama Habayeb and translated into English by Kay Heikkinen, that tells the story of a woman named Hawwa. Hawwa lives in Baqa'a, a camp for Palestinian refugees in Jordan set up in the wake of the 1967 Arab-Israeli war, and her life there is in turns thankless and brutal. The novel begins with a description of a typical morning in her childhood: she wakes up, cooks for her siblings, tries to clean the mattress of her brother who chronically wets his bed, and then uses her body to shield said brother against the lashes of her father's belt. Domestic violence recurs later in the home of her own loveless marriage, where she frequently shelters her daughter Aya from her husband's blows. She spends her life serving these men by whom she is repeatedly raped. She cooks and cleans for them; they use her for their sexual satisfaction and otherwise ignore her. Even her bed-wetting brother abuses her reflexive kindness: as an adult, unable to keep a job, he depends on her for food and money, which he takes without gratitude. Incredibly, despite all of this, she remains grateful, industrious, and optimistic.
Hawwa's unrecognized domestic labor forms the silent horizon against which the plot develops. The work she does for others consumes the majority of this book, as it does her life. The novel emphasizes the scaffolding of social structures; it is more concerned with meal-preparation and less with dinner-table conversation, allowing us to see the hollowness of the family units that women build and from which they are excluded. This foregrounding of female existence applies to public life as well: the specter of Israel and territorial conflict remain peripheral, whereas Hawwa's fight for dignity is central. Foreign armies are the least of her concerns.
My favorite part of the novel was its representation of feminist religious devotion, or a feminism that recognizes the authority of the sacred. Hawwa deifies her female idols and mentors. This reverence, often associated with religious fundamentalism or a repression of l'esprit critique, appears instead in the novel as an enlightening and progressive feminist force. Most radically, it suggests a new and other faith, or, in other words, a religion-to-come. Fairuz, the Lebanese singer, whose lyrics preface the novel and mentally accompany a variety of characters in the most emotionally trying times of their lives, oversees the highest order of Hawwa's pantheon of modern Arabic women. Her songs are the canonical texts that the characters (even some of the men) analyze and draw lessons from. When Hawwa hears Fairuz's songs on the radio, she imagines that she has been visited by a guardian angel:
Hawwa contented herself with Fairuz's visits to her, at unexpected times, on the morning radio. It seemed to Hawwa that Fairuz had begun to time her visits to her for the moments when her soul was becoming a desert, or when floods of depression washed over her. She would intervene to save her at the last minute.
Hawwa also worships her female mentor Sitt Qamar, who teaches her to be a tailor and embodies the beauty and independence that Hawwa spends her life pursuing. Sitt Qamar's tutelage is the great joy of Hawwa's life. It is surprisingly severe: Sitt Qamar blindfolds Hawwa without warning like a sartorial monk-in-training and makes her distinguish different fabrics with only her sense of smell. Hawwa fantasizes about being Sitt Qamar's daughter:
Better than all of that, Hawwa felt strongly that Sitt Qamar could be her mother. Like a mother, she would be gentle, compassionate, and tender, loving and affectionate. She would check on her daughter, whom Hawwa imagined as resembling her, Hawwa, to the point of being her, at night and during the day. She would miss her during the darkness of sleep and the light of waking; she would be alarmed if she lost her way or were late, on evenings draped with doubt. Her spirit would weep if she were in pain or were sad. Like a mother to her, Sitt Qamar would throw her body over her as a protective blanket or a forbidding wall, so no blow would reach her, no kick or boot, no bruising, no shattering, no squashing, no crushing. The maternal heart of Sitt Qamar would burn with prayers and tears if her daughter were ill—her daughter who looked so much like Hawwa that she could have been Hawwa herself.
The novel lacks cogent structure; it meanders listlessly around the camp, naming new characters at random, gossiping about their sex lives, and never mentioning them again. The beginning of the novel concerns Hawwa's youth and the end of the novel her death, but in between everything is chronologically jumbled, which perhaps rewards rereading but upon first perusal seems arbitrarily confusing. The ending is so much more brutal for being rushed. It is truly unfortunate how much plot is squeezed into the last twenty pages.
Certain passages will confound western feminists. The courtship of Durrat al-Ain comes to mind. As Sitt Qamar mentors Hawwa professionally, Durrat al-Ain mentors her in matters of the heart. One is led to understand that she is an expert in this domain because of the frighteningly extreme lengths her husband (Faris) went to win her hand in marriage. Having seen her on the street one day, he followed her to her house, promising that he would return every year to ask her to become his wife, which he does. On the fourth year, he even convinces his mother to go to her to ask in his place. On the fifth year, he decides to douse himself in kerosene and promises to light himself on fire if she does not immediately become his wife—her father concedes and the marriage papers are signed on the spot. This anecdote ends like this: "In those days of jubilation, it was hard for a man to ignore that feeling of collective intoxication that came from the triumph of love, if only for one single time in history." In a novel which explicitly centers female perspectives, it is unfortunate to see love be defined exclusively in terms of male desire.
Despite these flaws, however, it is hard not to be moved by the novel's animating impulse. It dreams of a feminist Islam. Hawwa remains loyal to her religion and her family throughout her life. She believes that she can live happily and freely within them. But can she? The novel succeeds in leaving this question open.
*****
Read more reviews on the Asymptote blog: