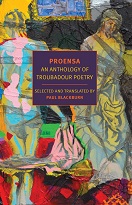 Proensa: An Anthology of Troubadour Poetry, tr. by Paul Blackburn, edited and introduced by George Economou. New York Review Books.
Review: Nozomi Saito, Executive Assistant
Translated from the Occitan by Paul Blackburn, Proensa: An Anthology of Troubadour Poetry is a remarkable collection of troubadour poetry, which had vast influence on major literary figures, including Dante and Ezra Pound. As poems of the twelfth century, the historic weight of troubadour poetry might intimidate some, but the lively language in Paul Blackburn's translations is sure to shock and delight twenty-first century readers in the same way that these poems did for their contemporary audiences.
The context surrounding the original publication of Proensa in 1978 is nearly as interesting as the troubadour poems themselves. Although Proensa was in fact ready for publication in the late 1950s, lacking only an introduction, the collection was not published until seven years after Paul Blackburn's death. The manuscript was then given to George Economou, who edited the collection and saw to its posthumous publication.
The circumstances of the publication of Proensa, of the pseudo-collaboration between a deceased translator and a living editor, are reminiscent of another publication that came out in 1916, Certain Noble Plays of Japan. This manuscript was a collection of Noh plays translated by Ernest Fenollosa, which Ezra Pound received after Fenollosa's death.
Interestingly, it was Ezra Pound's influence and the great importance he placed on the troubadours that ignited the fire of translation within Blackburn.  Pound, as Economou explains, "did more than any other twentieth-century poet to introduce the troubadours and their legacy to the English-speaking world". Pound viewed the translation of the troubadours as an all-important task, and Paul Blackburn answered the call-to-action.
Six degrees of Ezra Pound. The coincidence (if it is one) begs the question of why Proensa is being reprinted now, thirty-nine years after its original publication, and one hundred years after the publication of Certain Noble Plays.
In the case of Certain Noble Plays, the significance of its publication was that Pound (as well as William Butler Yeats) felt that the Noh plays could revitalize Anglo-American poetry and drama in ways that suited modernist aesthetics. One might wonder if the same intention lies behind the reprinting of Proensa—if these troubadour poems are appearing again to twenty-first century readers to revitalize poetry and performance using literary forms from the past. READ MORE…