Oľga Kovačičová, PhD is a Slovak literature scholar and specialist in old Russian literature and translation studies. She works at the Institute for Literary Studies at the Slovak Academy of Sciences where for the past few years she has been the driving force behind a unique project, "The Lexicon of 20th century Slovak translators," which she co-edited and contributed some 80 of the total 400 entries. She has agreed to share some reflections on the special role literary translation played in shaping Slovak language and culture with Asymptote's Editor-at-large Julia Sherwood, who then translated her insights into English.
Translated literature necessarily plays a more important role in smaller countries compared with bigger nations where much of the reading public's literary and general cultural needs are met by local literary output. When it comes to a really small country like Slovakia, even without citing statistical data it is obvious that the ratio of translated to domestic literary production is roughly the converse of that in Western Europe, where translations represent 12% (Germany) or 20% (Italy) of book publishing overall, let alone English speaking countries with the notorious 3-4% of translated books.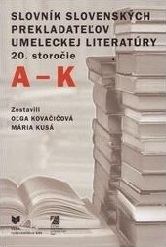 Another big difference is that while the major European cultures have had access to the great works of world literature in their own language for many centuries, in Slovakia the process of reception was basically condensed into the 20th century, since Slovak as a literary language was only constituted in the second half of the 1840s.  Volume I of the Lexicon of Slovak 20th century Literary Translators (Slovník slovenských prekladateľov umeleckej literatúry 20. storočia), published in 2015 by the Slovak Academy of Sciences (volume II is almost complete), provides a fascinating glimpse of this frantic catching up process.
There are lexicons and then there are lexicons. Unlike pragmatic manuals of the "Who's Who" type, the profiles of some 400 translators featured in The Lexicon aim to chart the trajectory of literary translation in the 20th century and through this, the history of reception of world literature in Slovakia. Individual entries are between three and five pages long, and apart from basic biographical details and each translator's bibliography, they look at the works each of them translated and how he/she translated them.  The fruit of the painstaking labour of over 30 linguists and translation studies scholars, the book includes Katarína Bednárová's comprehensive introductory essay on the history of literary translation in Slovakia and its international context, a bibliography of secondary sources, and an index. Volume II will feature an illustrated supplement, showcasing a selection of around 200 book covers, which doubles as a comprehensive survey of the evolution of Slovak book design, as well as lists of translators by source country.