The Clouds by Juan José Saer, tr. Hillary Vaughn Dobel, Open Letter Books. Review: Hannah Berk, Digital Editor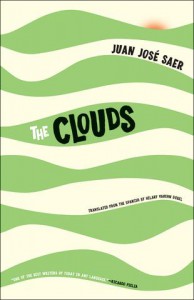 The Clouds begins with the destruction of a mental asylum and ends with an arrival at its threshold. Its central journey takes place across a vast expanse of flatlands, every horizon so much the same that progressing and doubling back lose their distinction. This is a novel of contingent geometries. In some respects, it is linear: there is a journey in which a doctor leads a crew of five mental patients, two escort soldiers, and a guide across a desert to a mental hospital. At the same time, it carves layer upon layer into itself. The manuscript we read is a file on a floppy disk being read by one Pinchón Garay in a Paris apartment, haphazardly annotated by the man into whose hands the thing haphazardly fell.
Our narrator is Dr. Real, who works under a psychologist renowned for experimental treatment methods that mostly seem to entail allowing the mad live their lives just like anyone else. He is tasked with leading a group of patients on a long journey to a mental health facility in 1804 Argentina. His charges include a delusional narcissist, a nun convinced that the only way to approach consummate divinity is by consummating as many earthly relationships as possible, two brothers as incapable of communication as they are of silence, and a distraught philosophy student unable to unfurl his fists. Dr. Real promises a scientific account of their ailments at the outset, but the moment their journey begins, we are forced to question whether their responses are so outlandish for their circumstances, or, at their core, much different from our own.