In today's dispatch, Asymptote's Editor-at-Large for Slovakia, Julia Sherwood, reports on the high points of the European Literature Days festival, which she attended in Spitz, Austria from November 22-25. This year's festival, whose theme was "film and literature," featured many of Europe's best film directors and screenwriters alongside high-profile novelists and essayists. 
What is the relationship between film and literature? How does narrative work in these two art forms and what is lost or gained when a story is transposed from paper to the screen? These questions were pondered during the tenth European Literature Days festival, amidst the rolling hills on the banks of the Danube shrouded in autumn mists, on the last weekend of November. As in previous years, the weekend was full of discoveries, with the tiny wine-making town of Spitz and venues in the only slightly larger town of Krems attracting some of the most exciting European authors, this time alongside some outstanding filmmakers.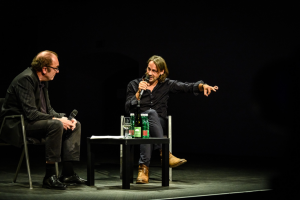 Robert Menasse and Richard David Precht. Image credit: Sascha Osaka.
Bookended by two high-profile events, the gathering opened with a discussion between Austrian novelist and essayist Robert Menasse and German celebrity philosopher Richard David Precht, moving at breakneck speed from the theory of evolution to a critique of the current education system, sorely challenging the hard-working interpreters. The closing event saw Bulgarian-born writer Ilija Trojanow receive the Austrian Book Trade Honorary Award for Tolerance in Thought and Action and make a passionate plea for engaged literature: "As a writer I have to live up to the incredible gift of freedom by writing not about myself but away from myself, towards society."