Cities can be energizing or inspiring, sites of sensuality or spirituality. Two such cities take center stage in this edition of What's New in Translation, where our team members introduce you to new and exciting publications.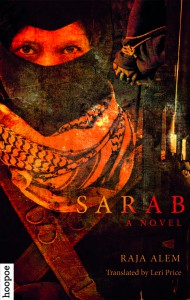 Sarab by Raja Alem, translated from the Arabic by Leri Price (Hoopoe Books)
Reviewed by Erik Noonan, Assistant Editor
Not only does Sarab, the forthcoming novel by Saudi author Raja Alem, open a new chapter in the fictional treatment of the 1979 siege of the Great Mosque—following Badriah al-Bishr's Love Stories on al-Asha Street, Yousef al-Mohaimeed's Where Pigeons Don't Fly and Alem's own The Dove's Necklace (winner of the 2011 International Prize for Arabic Fiction)—it also marks a precarious moment in the development of the global novel.  The book first appeared in April in German, and it's set to be published in English in October by Hoopoe, an imprint of Cairo University Press. The work is intriguing, translated from a text that the novelist does not regard as finished. Since it deals with "a dark chapter in the history of this most holy city" of Mecca—as the Paris resident, Raja, says of her hometown, in a recent interview with Publisher's Weekly—"I am very sensitive to the words, and up until now I cannot find the right words to capture this story, this wound," she continues.  "I feel I need to rewrite this book in some new Arabic, after taking a distance."  Thanks to translator Leri Price, the Anglophone public who cannot read Arabic can nevertheless now imagine that new Arabic for themselves, across a different, and otherwise uncrossable, distance.