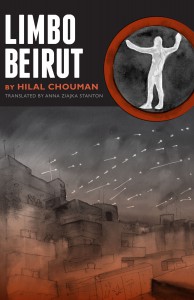 Limbo Beirut, by Hilal Chouman, tr. Anna Ziajka Stanton. Center for Middle Eastern Studies, The University of Texas at Austin. Review: Claire Pershan, Assistant Director, Educational Arm
Beirut is a city of collisions. Bad drivers, sudden friendships, graffiti in a mess of languages. And yet, when enough chaos collides, it produces its own order—the way a sprawling city looks from far away.
This is the effect of Hilal Chouman's latest novel, Limbo Beirut, recently translated from Arabic into English by Anna Ziajka Stanton, and published by University of Texas Press. Chouman's novel fills the space between history and memory. Six narrative chapters document the fighting that broke out in the city in May of 2008, as it was experienced by the city's residents. These clashes, between Hezbollah and pro-Syrian militias on one side, and members of the Sunni-supported Future Movement on the other, didn't gain much attention from western media, but for the Lebanese people, they were a frightening echo of the Civil War that devastated the country between 1975 and 1990.