Photographer Cody Cobb is Asymptote's guest artist for the July issue. His poignant snapshots—a departure from the breathtaking landscape imagery that defines his practice—grace nineteen of our texts in the Fiction, Nonfiction, Drama, and Multilingual Writing feature sections. I interviewed him about his artistic motivations, his affinity for landscapes, and his experience contributing to Asymptote.
Berny Tan: I'd like to start with a question about your own photography practice. You describe your photography as "attempts to capture portraits of the Earth's surface, devoid of human interaction and interference." What motivates and informs this approach?
Cody Cobb: Finding quiet places to be alone on a planet with over 7 billion humans is my motivation. This seems to be getting harder, so I end up trekking way out into the mountains and forests.
To me, your photographs independently evoke the narrative and the human (despite the absence of human figures). Does storytelling come into play when you construct each image?
I think the narrative would be a very long one written on a geologic time scale. From my perspective, the story being told is about chaos, self-organization, and how the human brain has evolved to find beauty in these things.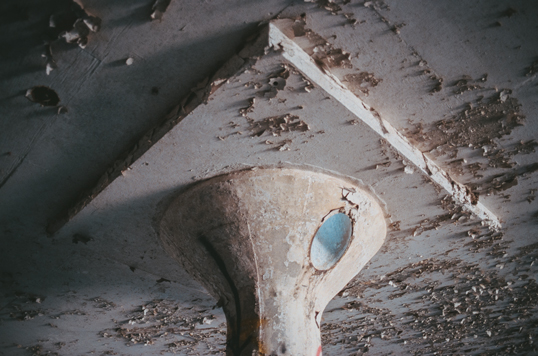 You capture a diverse array of landscapes. How much and how far do you travel—and what is the most memorable landscape you've encountered?
To be honest, I haven't had to travel very far to find incredible landscapes. The diversity of the American West is astonishing! Eventually, I'd love travel and see the rest of the planet. Until then, there's plenty to keep me busy out here.
I recently spent 12 days walking around a volcano named Tahoma, Washington. Being completely immersed in a landscape shaped by such violent natural forces has been one of my most memorable experiences.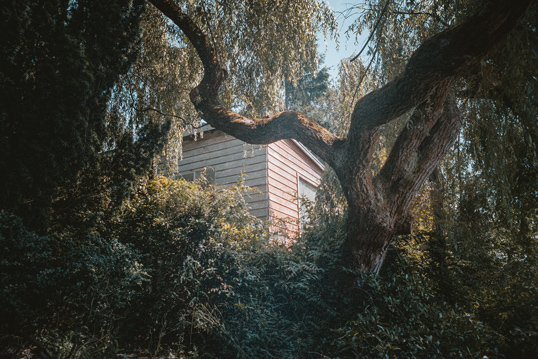 How did you go about creating the imagery for the texts in our July issue, and how did the experience differ from the methods you use in your own work?
When shooting my personal work, I have no intentions or expectations. I like being surprised by the things I encounter. For this assignment, my approach was to absorb an individual text and let it swirl around in my head while I just walked around with a camera.
As with my personal photography, I don't feel like I created anything. I just captured little observations that made a connection to each text.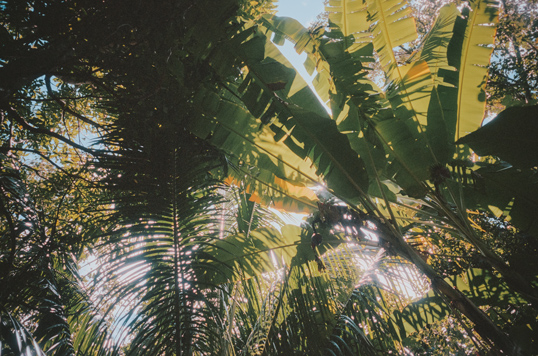 I really enjoyed how surprising some of your contributions were. For Naja Marie Aidt's poems, your image of the spilled cup noodles was an unexpected echo of the "Spiderweb-fine jellyfish" in the first line. How did you resist the temptation to be literal in your interpretations?
Strangely enough, I hadn't made the connection to the first line until you mentioned it. The second stanza was the one that kept resonating with me. The sinister streets that I decided to explore were in a busy neighborhood with throngs of people and loud music. The cup of exploded noodles captured that walk for me pretty well.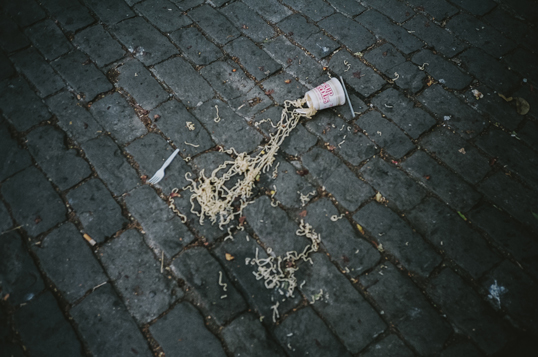 Out of the nineteen texts for which you contributed artwork, which text did you most enjoy reading, and which image did you most enjoy creating?
Naja Marie Aidt's poems were my favorite for both reading and shooting. I loved how much the language and imagery undulated, much like the explosion of noodles on the street that I came across. I also appreciated how the process of shooting for it took me out of my typical environment of peace and quiet.
What other projects do you have planned for the near future?
I don't plan too far ahead. Next weekend I'll be in Squamish, British Columbia for some rock climbing. Beyond that is a mystery.
*****
Cody Cobb (b. 1984) is an American photographer based in Seattle, Washington. His photography attempts to capture portraits of the Earth's surface, devoid of human interaction and interference. His website can be found here.
Berny Tan is Asymptote's Lead Graphic Designer. An artist, curator, and writer, she graduated from the School of Visual Arts in New York with a BFA (Honors) in Visual & Critical Studies. Berny was born and raised in Singapore, and currently works as Assistant Curator for OH! Open House, a non-profit that explores Singapore's cultural geography through art. Her website can be found here.