Winner of the 2015 London Book Fair's International Translation Initiative Award, Asymptote is an exciting new international journal dedicated to literary translation and bringing together in one place the best in contemporary writing. To date, the magazine has published literature from 96 countries and 72 languages, including hitherto unpublished work by writers and translators such as J. M. Coetzee, Patrick Modiano, Can Xue, Ismail Kadare, David Mitchell, Anne Carson, Haruki Murakami, Lydia Davis, and Herta Müller. We are interested in encounters between languages and the consequences of these encounters. Though a translation may never fully replicate the original in effect (thus our name, "asymptote": the dotted line on a graph that a mathematical function may tend towards but never reach), it is in itself an act of creation.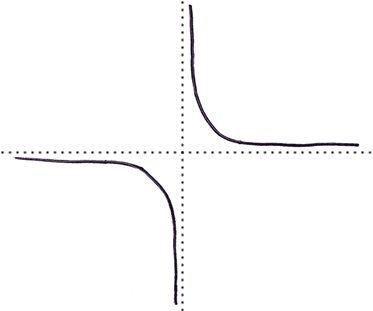 George Bernard Shaw famously said, "If you have an apple and I have an apple and we exchange apples then you and I will still each have one apple. But if you have an idea and I have an idea and we exchange those ideas, then each of us will have two ideas." Similarly, incorporeal works of art (poems, short stories, etc.) have the potential to affect millions, since unlike apples, they are unencumbered by the problem of scarcity (Lewis Hyde). The value of translation is that it unleashes from latency ideas and emotions to a vast sea of others who do not have access to the language in which these ideas and emotions reside.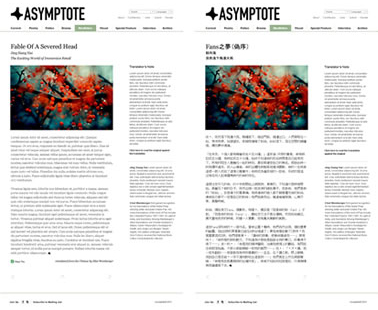 Beyond the eclectic platter of languages presented in each issue, Asymptote seeks to persuade the reader of their sensual pleasures. Not only do we display work in its original language after the English translation, we sometimes offer the sounds of that language as well, via a "Press PLAY" audio option whenever such an MP3 recording is available. Other than the usual categories of fiction, nonfiction, poetry, drama and interviews, we also feature a section for visual art that relates to Asymptote's concerns of language and translation.
Every quarter, we showcase two Special Features: the first a Writers on Writers Feature, in which overlooked non-English writers are concisely introduced and the second a wildcard Feature that varies from issue to issue. For our call for submissions in the Special Feature category in our next issues, and for detailed guidelines for submissions in other sections, please check out our Submit page.