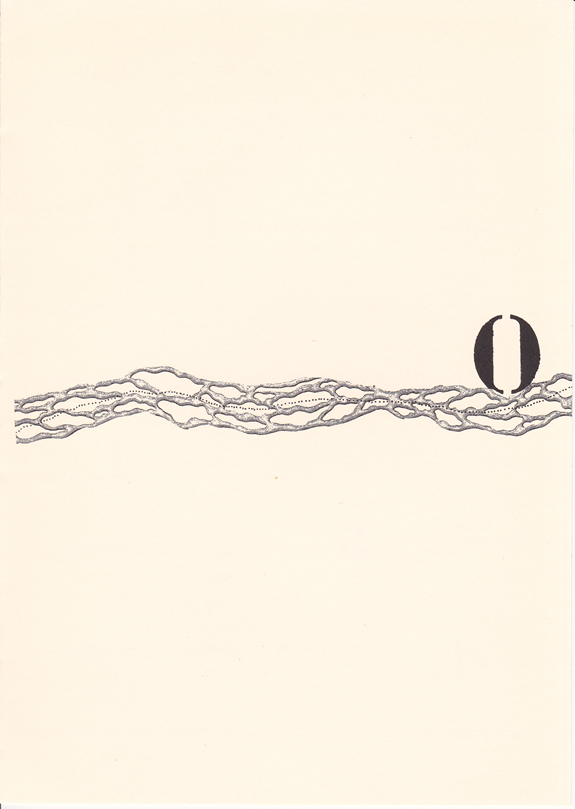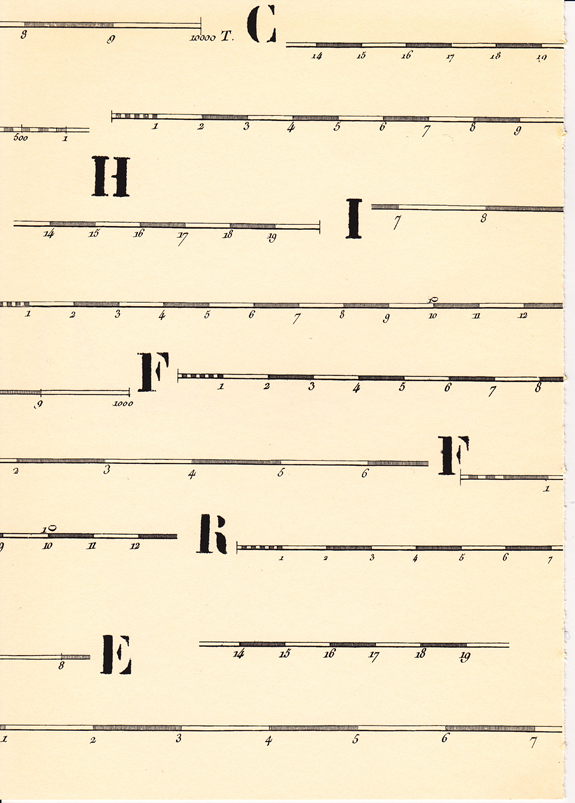 IN THE SERVICE OF THE FIGURE WHICH SCRAMBLES THE
    BRIGHT SIGN OF FREQUENCIES STILL ASSOCIATED WITH
    OVERLY BUCCAL VOWELS BUT THROUGH TRANSPOSING THE
    INTELLIGIBLES WHICH FOR THEIR PART FORM VARIANTS
    OF A NUMERIC TEXT IN WHICH SERIES OF COLUMNS ARE
    ALIGNED AND WHERE LIGATURES ADOPT THE APPEARANCE
    OF LACUNAE VIA THE ARTIFICES OF THE CONVENTIONAL
    WHILE THE MESSAGE TRANSFORMS IN THE MARGINS OF A
    CODE THAT REDUCES THE DISPROPORTION OF ANNOUNCED
    PLAUSIBLES IN ALPHABETICAL COMBINATION WHAT MUST
    BE SUBSTITUTED ONE FOR THE OTHER BEFORE REVISION
    INTO POSITIONS MARKED BY CERTAIN CLASSIFIED KEYS
    ABBREVIATED TO INITIALS OF THE NAME THAT CAREFUL
    VERIFICATION BETRAYS TO THE RISK OF THE POSSIBLE
    CONFUSION WITH INCOHERENCIES ASSEMBLED UNDER THE
    RUSE OF INACCURATE SEQUENCES WHOSE HESITANT DEBT
    JUSTIFIES THE VERY EXACT TERMS OF DELICATE WORDS
    TO BE AUTHENTICATED IN ORDER NOT TO DISCLOSE THE
    CRYPTOGRAM AS A PARODY OF CALCULATION PERILOUSLY
    DRAFTED IN THE EVENT OF RUSHING WITHOUT A LETTER
    TRANSMITTED BY THE DECIPHERER COMPLETELY MASKING
    THE PERMUTATED AND SECRET CORRESPONDENCES OF THE
    WRITING WHICH STRATEGICALLY CONCEALED WITHIN THE
    COMPOSITION IS ISOLATED BY LAW FROM THE INTERIOR
    THIS DEAD ANGLE BASTION IN WHICH A PAGE PERSISTS
    BENEATH SEALS CAUGHT WITHIN THEIR IMPRESSIONS OF
    MISTAKES ALONG WITH AN OMISSION ANTICIPATED SANS
    THE SIGNAL OF THE LIGHTHOUSE AT THE FIRST FUTILE
    ALERT OF AN ARSENAL OF THE SPIRIT IN POSITION AS
    SOON AS NIGHT LOCKS ITS RAMPART LINED BY CRENELS
    ALONG A SURROUNDING WALL BOUNDARIED BY OBSERVANT
    PATROLS OF AN INVESTIGATION THAT HOLLOWS OUT THE
    LINE OF REINFORCING STRUCTURES SHOOTING DIRECTLY
    TO A RECTILINEAR RADIUS IN WHICH AN ARROW POINTS
    IN A GRAPHIC DIRECTION TO LINEAMENTS OF SYLLABIC
    CONTOURS PIERCED BY LOOPHOLES NO SOONER CUT INTO
    THE THICKNESS OF A VIGIL DEFENDING ACCESS TO ITS
    ESSENTIAL FLANKS THAN A RUDE PROTOCOL FOLLOWS OF
    WHICH THE REPETITION ENGAGING TOWARD THE CENTRAL
    POSITION OF ORAL FORMULAE SEQUESTERED WITHIN THE
    FORTIFICATIONS OF LYRICS WHICH DETAIN INEFFABLES
    OFTEN REBELLIOUS TO INSURGENT SUBJECT AND TRYING
    TO PROTECT ITSELF FULLY AGAINST LISTENING AT THE
    THRESHOLD OF DETECTING DANGERS RECOGNIZABLE UPON
    ONE'S GUARD WITH ALL THE MOVEMENT OF A FALSIFIED
    INTERROGATION CONTAINED WITHIN THE COLLECTION OF
    EVIDENCE WRITTEN ONLY ON THE FINAL PAGE OF FACTS
    OBSERVED BY THE LOOKOUT WHO WATCHES ON THE MOUNT
    TAKEN BY PLUNGING PERSPECTIVES WHERE IMAGINABLES
    ABSCOND LOSING ACUITY NO SOONER THAN THE EYE AND
    ITS ANNEXES WANDERING THE QUADRILLAGE TESTIFY TO
    A CHAIN OF COINCIDENCE TO WHICH A SURVEY IMPARTS
    A LEGEND SO THAT LOCAL EQUIDISTANCES BENEATH THE
    CROSSHATCHING OF DIMINUTIONS AT THE INTERSECTION
    OF BITUMINOUS SEGMENTS CONNECTED ACROSS BEAMS IN
    SHRINKING SOLIDARITY WITH STEPS SHAPED BY DOUBLY
    STAGED STAIRWAYS WHOSE RAMPS RUN STRAIGHT TO THE
    HEART OF ROTARIES UNDERSCORING A DIVISION IN THE
    MEASUREMENTS OF DEGREES TOWARD THE ALLEY LEADING
    TO AN AREA EVEN MORE BURDENED BY ROADS SATURATED
    WITH A SQUEEZING URBANIZATION WHERE WANDERING IN
    PURSUIT OF ITS MOST INTIMATE IMPASSES KEEPS RAGE
    ON WALLS LARGELY CONFINED ONTO CRACKING EXPANSES
    TO THE PINION WHEN THE FRAMING OF RIGHTS IMPOSES
    CAVALIER VISUALS THAT READ SYMMETRICAL AS OPTICS
    OF A RETICULAR ILLUSION PROJECTED ON A LABYRINTH
    DEVISED TO PLANT MILESTONES IN THE AGGLOMERATION
    OF THE EXPIRING TEXTURE OF A CADASTRAL MAP WHICH
    REVEALS NEVERTHELESS SOLIDLY AGRARIAN LAND WHOSE
    CADASTRAL PARCELS MUST BE EXACTLY LOCATED BEFORE
    SKETCHING OUT THE PLAN FOR APPROACHING EVEN MORE
    SCRUPULOUSLY THE PURITY OF A CITY WITHOUT A NAME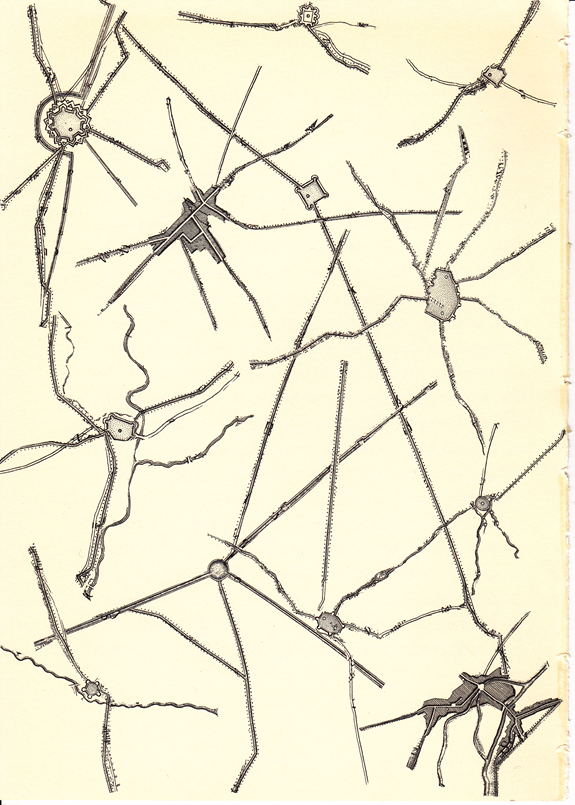 ALWAYS LATENT IN ITS INDEPENDENCE ENCROACHING ON
    IMPERALIST EXCESS FROM WHENCE THE TYRANNIES LASH
    OUT AGAINST OUTRIDERS WHO ENSEMBLE ARE ONLY JUST
    SUBMISSIVE WHEN CHASTISING ABUSERS ARE COMPELLED
    TO REPENT FOR A WICKED LIFE IN WHICH FANATICISTS
    SUBJECT EVERY LIAISON TO THE CAUSE AND EFFECT OF
    CRYING OUTSIDE MEA CULPA LIKE A BITTER ATONEMENT
    BY CAPTIVES WHOSE YOKES JAR THE INTOLERABLES WHO
    FORCE THE DISHONOR OF MORALITY AS CRUELLY AS THE
    EXPULSION OF INDIGENTS FROM REFUGE RELEASED FROM
    LANGUAGE OF FLESHY VERNACULARS SLAMMING DOWN THE
    PASSAGE OF INVECTIVES AND BRAVING REPRESSIONS SO
    VIOLENTLY AFTER ESCAPING SUFFOCATION OF PAPILLAE
    BENEATH A GAG OF EXPRESSION WITH AN OVERWHELMING
    SENSE OF FAILURE WHEN FOLLY OF THE NARROW-MINDED
    OVERWORKS THOSE WHO ARE HYPERTROPHIED IMPRISONED 
    WITHIN THE TWISTED PARTITIONING BETWEEN MODES OF
    SPEAKING THAT EXCLUDE CRAMPED PHRASES PRESSURING
    THE PRONOUNCEMENTS FROM THE OTHER PART HAMPERING
    AN EFFUSION OF SAYINGS OF WHICH THE SAID IMPEDES
    ANY HESITATION IN LOOSENING FRANK TONGUES EXCEPT
    WHEN THE UNSPOKEN OF EMPANCIPATED SYNTAX REVOLTS
    AT STRIVING FOR EVERYTHING ONLY TO DISCOVER WITH
    THE OBVERSE OF ERASURE THE MOST FINAL OF PHRASES
    TO THE GLORIOUS MEMORY OF COMMEMORATIVES THAT IN
    GRAVE TOPNOTES SING OF THE VANISHING REMEMBRANCE
    OF THE VERY FINAL DATE WITHIN A CHRONOLOGY WHOSE
    SANCTIFIED INDETERMINATION OF BYGONES LESS EXACT
    IN THEIR CHANGES BUT MORE PROPITIOUS IN REVIVING
    THE EPHEMERIDES ABANDONED TO THE POWER OF RECALL
    THAT WHICH FORGOTTEN IN A RECOLLECTION INSCRIBED
    ON THE FRONTON OF CORBELLED CORNICE WITH CONCISE
    EX-VOTO ON REVERSE AGAIN CAUGHT BY PHENOMENAE OF
    TENACIOUS YET DISTANT MEMORIES AND UNDULY FILLED
    WITH UNCERTAINTY AS TO THE AUTHENTICITY OF THOSE
    FABULOUS VESTIGES OF THE AFTERIMAGES ASSIMILATED
    IN AN ANALOGY OF REMINISCING ABOUT A NOW EXTINCT
    PAST THAT DOES NOT PERSIST IN THE MINDS OF THOSE
    WHO AID THE ARCHIVING OF APPRECIATIONS ACCORDING
    TO THE BARELY OBJECTIVE CONCORDANCES ON ANTERIOR
    MONUMENTS ALIGNED WITH ANNALS SOMETIMES AMNESIAC
    ON HARDLY OBSOLETE TWISTS OF HISTORY OMITTED BIT
    BY BIT FROM ANTIQUE EXCAVATIONS IN THE DEBRIS OF
    DIGS TO RETRIEVE OBSOLETE LIVES DIGNIFIED BY THE
    RELENTLESS RECOLLECTIONS HAUNTING THE OPPRESSIVE
    MNEMONICS THUS AN INTRUSIVE NARRATOR EXACERBATES
    THE PERCEPTIVES OCCUPIED WITH SCRUTINIZING A SKY
    OPENING TO THE PERPETUITY OF AN IMMEMORIAL SOUTH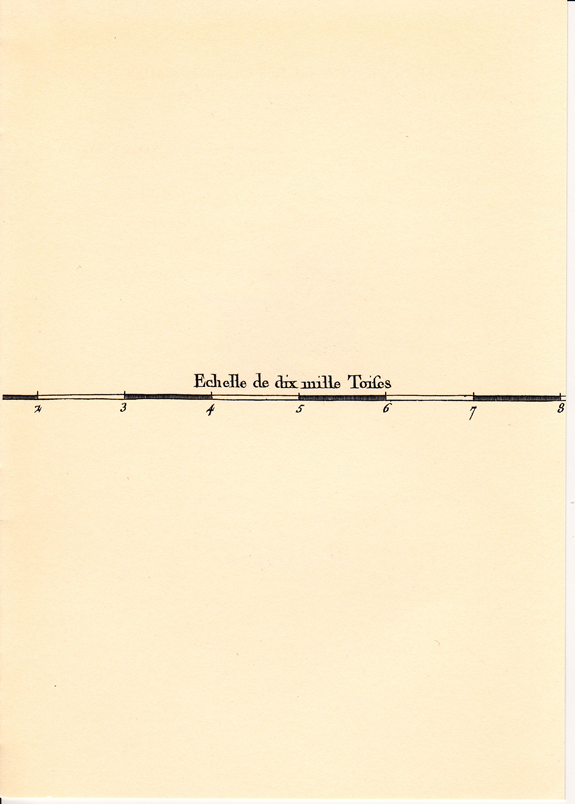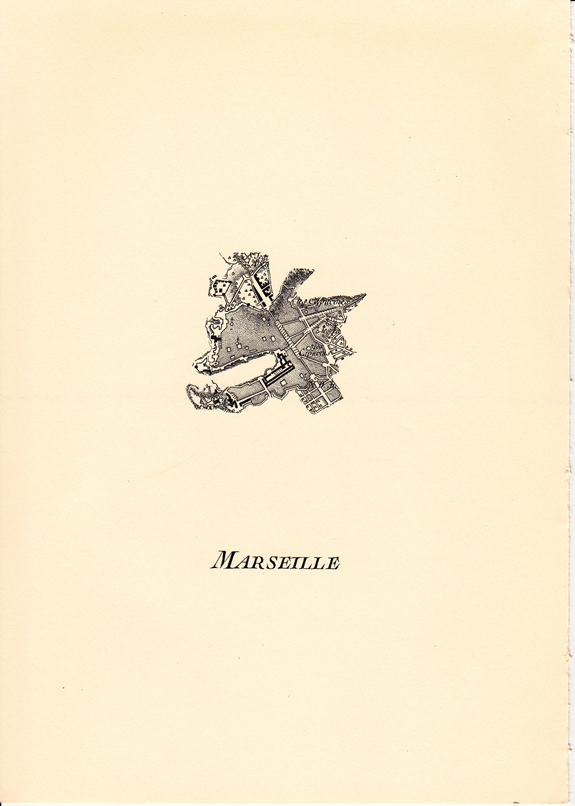 LEGEND
Earth's horizon
: Accumulation of elements within a geological layer. So this collection, invented by successive contributions, mixes very diverse elements.
Caliber of texts
: It follows the number of letters in the Provencal alphabet.
The material of collages
: The collages come from Cassini's map (18th century), which is so close to writing in its use of the line. The image is a poem. [Translator's note: the sequence of images follows that of the original publication.]
The littoral city
: It is situated at the point of contact between the lithosphere, the atmosphere and the hydrosphere.
Panorama
: Visual field / semantic field.
The transgression
: The sea reclaims the "lost continent," the south-provencal continent about which the geologists hypothesize.
The mareograph
: Located along the Corniche, the mareograph, or tide gauge determines the national height or "levelling" of France. [The mareograph of Marseille measures changes in sea levels, which is used to determine the "zero level" for France; the Corniche is a road that winds along the Mediterranean.]
The cipher's service
: Charged with transmitting secret messages from Fort Saint-Nicolas. [Louis the XIV had the Fort Saint-Nicolas built to protect the harbor of Marseille.]
The hill of the guard
: Ancient location of a lookout.
The magistral
: Master wind, "mistral" in Provençal.
The names of places
: The barrier of the firewall, the island plane, the impasse of intimates, the street of honors (anc. dishonor), the refuge.
Inscriptions
: Raised upon monuments, plaques. One day in a violent wind ... (escalator of the stock exchange); the monument to the Great Confinement (Vieille Charite [a former almshouse]); to the glorious memory ...(Pierre Dessemond Street).
Historic allusions
: "the city without a name"; "the always latent independence of the city."