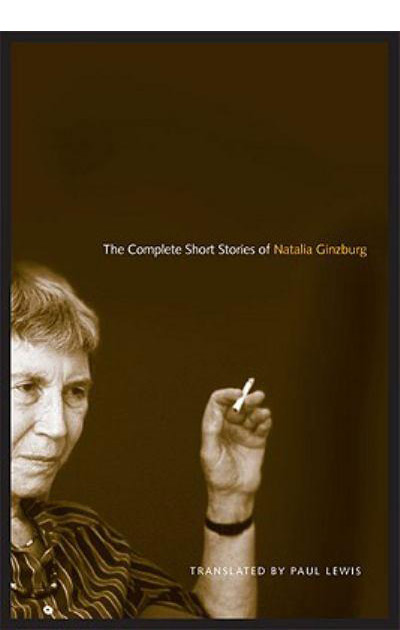 In the spring of 1977, when I was about to turn 22, I visited Rome, drawn back there after eleven years by exotic childhood memories: Though I'd never been to an Italian class (and never would), I'd taught myself to read letters in it; I found I could speak it on the streets, read magazines, and even write a bit, perhaps because of my early exposure to its sounds. I had no idea, when I went back to London where I lived, that Italian would become, after English and Urdu, my third language, or of the part Natalia Ginzburg would play in that adoption.
That autumn, a friend who was visiting London from Turin thought he'd help me along with my progress in the language and give me a dose of Northern Italy in the bargain. He handed me a slender white novel. "But I couldn't read this," I said. "Oh yes you can," he said. And I could.
The author of the novel was Natalia Ginzburg, but I don't remember which one of the two books he gave me that autumn I read first:
Valentino or Sagittario
. Let me claim the storyteller's privilege and say it was the latter, as its closing lines were to stay in my head forever. It's a novel about a family dominated by a garrulous, acquisitive mother who wants to set up a boutique and gets badly taken in by a trickster. (Though
Valentino
was written in 1951 and
Sagittarius
in 1957, they seemed fresh and quite contemporary.) From the first line – "
Mia madre aveva comprato una casa in un sobborgo della citta
" – Ginzburg has you captivated. In the closing passages a rather unhappy young woman called Giulia dies in childbirth; her sister, the narrator, recounts her death, but she sees it from her mourning mother's perspective. The Giulia the mother longs for is not the woman she was when she died but the child she'd once been, before the smile appeared on her lips that her mother now understands: "
il sorriso di chi vuol essere lasciato in disparte, per ritornare a poco a poco nell'ombra
". The impact of those words echoed in my head while I went off to search for the meaning of the word disparte, but I knew in my gut what Ginzburg was talking about. In both books, the writing seemed simple, transparent, colloquial. In the significantly shorter but equally haunting
Valentino
, a sister tells the story of her handsome layabout brother, his marriage to a rich ugly older woman, and his fling with his wife's male cousin (which leads to the latter's suicide).
In the next few months I acquired everything I could by Ginzburg. And it was from her work that I learned to read literary Italian and to deploy its wisecracks and refinements in my speech as I travelled to Milan to spend a Saturday night and a Sunday morning there once a month. My discovery of Northern Italy and my growing knowledge of Italian ran parallel to my immersion in Ginzburg. I lived in Chelsea and worked in a bank in Knightsbridge, and as the days grew shorter I'd walk home in the dark and on my way home pick up books from the local library, which conveniently had an Italian section. I didn't trouble myself much about genre in those days – novel, or novella, did it matter? – but was delighted to find a volume called
Cinque Romanzi Brevi
, because
breve
was better for my Italian and for my restricted reading time. (The few translations of Ginzburg were out of print; and it probably didn't occur to me to look for them: for me, the experience of reading Ginzburg was connected with Italian.) That volume to this day probably remains my favorite of her books, or rather contains my favorite works: the two short novels I'd read, and three others, all exquisite.
The collection also contained a selection of Ginzburg's short stories, though the cover didn't mention this. The transition between the short novels and the racconti was seamless, Ginzburg interchanging style and subject matter in both forms. For example, the novella
E Stato Cosi
, in which the narrator shoots her husband in the eyes in an inimitable one-line paragraph, has stylistic and thematic parallels to the short story "Mio Marito," with its portrait of alienation, marital discord, and haunting solitude. (Much has been written about the autobiographical content of these stories because they are bitingly realistic, but they are probably based on hawkeyed observations of people and places rather than on the author's life.) There was also "Un'assenza," about a man who comes home to an empty house, suspects his wife is with her lover in another town, and wanders off to a brothel; "Casa Al Mare," in which a man visits a friend, his wife, and the wife's adulterous lover, and ends up having a fling with his friend's wife himself; and the most famous of Ginzburg's short fictions, "La Madre," about an unloved mother with a yellow-powdered face who kills herself in a dingy hotel room when her exotic lover dumps her.
Something of an anomaly in her oeuvre,
Tutti I Nostri Ieri
is a WWII domestic epic that reads like a conventional period piece or historical novel, although with many of her characteristic tropes. Its sprawl suited the author far less than the concision of her early works. After she finished that novel, having paid her dues to novelistic convention, she went back to 'little' fictions. (Until much later that is, when she wrote her epic, semi-fictional but characteristically laconic reconstruction of the Manzonis' life and times,
La Famiglia Manzoni
, in 1983).
By February 1978, I'd read all Ginzburg's novels and I started to write in Italian myself because that had become my language of romantic love. The sentences in some of my stories replicated the cynical patterns of Ginzburg. But later that year my life was to change: I went back to university to study Persian. I realized I would probably never live in Italy. And when I eventually returned to reading Italian it was to be, in turn, Morante, Calvino, Pavese, and Ortese I read, and then a host of others. In the 1980s, Ginzburg's novels began to appear in British editions from Carcanet, but I'd begun wondering by then if Ginzburg was untranslatable: the clipped and almost flat cadence of her sentences and the sound-patterns they created owed everything to the language she wrote in, but paradoxically might have owed something to the English language too – Hemingway's prose style, perhaps – as, it was said, Pavese's did. (I recently read, in an essay by Ginzburg, that she'd been reading Steinbeck when she wrote her first novel, but her style was already evident in her early stories.) By that time I'd started to publish fiction myself, and more than once I'd seen the imprimatur of Ginzburg's vision on my stories – the quirky characterization, the portrait of disrupted intimacy and blighted idylls, and most of all the description of destruction and death in that laconic, throwaway prose. It was her style, perhaps, that remained a presence in my own writing – as if, to capture the memories of a lost world of childhood that English couldn't always encompass, I was turning to Ginzburg's Italian for rhythm and reason. And still today, when I listen to a storytelling voice in my head in any of the three languages I think in, it often echoes the cadences of Ginzburg's fictions.
*
Over the years I've discussed Ginzburg with people who read both Italian and English, but they tend to dismiss her or relegate her to the ranks of the minor and bring up some other Italian writer of the postwar years, usually male (Sciascia! Silone! Fenoglio!) – or praise the more flamboyant Elsa Morante and Anna Maria Ortese to her detriment. What is it that annoys them about her? The narrow enclosures of her fictional world, or the fact that she places harrowing tragedies in the narrow lanes of a mean and restricted milieu, which prides itself on the 'little virtues' the author despises? In her time, foreign critics also compared Ginzburg to Woolf, Sarraute, and Ivy Compton-Burnett, as if it was impossible to accommodate her wayward talent without creating a feminine lineage for her. I can't imagine two writers more different than Woolf and Ginzburg, and if Natalia shares much more than a first name and a Jewish heritage with Nathalie Sarraute it is hard for me to detect; the best one could say is that they gain occasionally similar effects by opposite means. As I prepared to write this piece I read, in Ginzburg's 1964 preface to
Cinque Romanzi
, that she discovered Compton-Burnett in London in the 1950s, well after her own most representative books were already out there in the world, but her 1961 novel,
Le Voci Della Sera
, she suggests, was partly inspired by the older writer, particularly in its use of dialogue, which until then Ginzburg had used sparingly in her fiction; in some cases, such as 
Sagittario
and
Tutti Nostri Ieri
, not at all.
Ginzburg, although an avowed leftist, disclaimed political allegiances in her fiction, and wrote early that her métier was to depict human relationships. In this – the haplessness of some of her characters and the predatoriness of others – she might be called Chekhovian (Chekhov is just about the only early influence she cites); but her world is deconstructed, diminished, and depleted, with touches of compassion but more often the dark revelation that an acceptance of loss and a resigned understanding of human folly is the only possible personal epiphany.
In Italy, though she protested when she was asked about it, she was called an 'untouchable' (ironically, a designation that referred to the great and the good); and placed in the ranks of the greatest of the European greats. In her memoir,
Lessico Famigliare
(1963), she talks of her friendships with her illustrious older contemporaries, with whom she shared the tragedy of recent Italian history. But in the end Ginzburg is valiantly but quietly true to her own vision. Her last work, published a year before she died of cancer in 1991, was
Serena Cruz
, an impassioned book-length essay about a miscarriage of justice: an Italian couple's loss of their adopted Filipina daughter to an uncaring legal system.
In the early years of the millennium I began to reread Ginzburg in English, usually in the hope that I could teach her fictions, but by that time they were almost all out of print, though in her own country her work is always available while that of other once-celebrated authors disappears. Though the novels were all very competently rendered, almost all of them had the identical effect of forcing me to return to the originals.
I finally replaced my long-lent out and unreturned
Cinque Romanzi
with a handsome edition of it on a trip to Italy when I went there to launch my own book, and I now return to that copy when I need a dose of Ginzburg.
As 2011 ended, I came upon
The Complete Short Stories of Natalia Ginzburg
in a translation by Paul Lewis. The volume was slim (just over 100 pages), handsome, and expensive and would make a rather elegant present for one of my friends who hadn't read Ginzburg. My inveterate reader's curiosity forced me to dip into the book. To my delight, four of the eight stories in the book had never been collected before: I didn't have them in Italian. I began to read on the bus, and missed my stop. I read the stories in sequence, and in many ways retrieved that original frisson of discovery.
The collection begins chronologically, with "An Absence", which the author wrote when she was 17; and the reader is at once taken aback by the dexterity of the structure – one evening in the male protagonist's life – and by the young author's exploration of the mind of a disgruntled husband in search of a one-night stand:
"Now then my darling Anna. You are in San Remo with your lover and I am here with my pretty Titi or Cici, whatever her name is. Here I am.
He climbed the few steps, and casually rang the bell, wiping his feet scrupulously on the mat. When they came to the door he went in without any hurry, apologizing in his heart to Anna.
This is followed by the uncollected stories "Giulietta" and "The Children," both written when she was in her early twenties, and near-perfect examples of the genre. In the first, the protagonist tries to persuade his visiting brother to conceal the fact that he has a very demonstrative live-in girlfriend from their conservative family. "The Children" is another of Ginzburg's inimitable portrayals of offspring witnessing an uncaring mother's amorous predilections – this time triggered by a groping younger uncle's overtures. The story forms part of a triptych with "The Mother", a story with that wonderfully calibrated shift of time and tone Ginzburg excels at.
"German Soldiers Pass through Erra" is a tour de force without a single protagonist or a center of consciousness. Similar to other wartime writings, and somewhat in the mode of her friend Pavese's
The Moon and the Bonfire
, it deals with the murder of a group of Partisans with a ballad-like beauty that survives in translation. Here is an example of the characteristic compression and weaving together of different strands of perception, somewhere in the middle of this very short story.
On the 5th of October, two English prisoners appeared in Erra. One was a black man. They came down from the mountain; their shirts were ripped but they had smart, solid shoes which you could tell had come from London. As soon as they arrived in the piazza everybody ran to welcome them as if they were liberators.
There's just one, late story that doesn't quite make the mark, the closing piece, "The Marshals", about a symbolic children's game. One wonders why Lewis chose to include this, while, in a book that intrepidly sets out to rescue and translate all of Ginzburg's short fiction, he leaves out the brief and beautiful "
Estate
" (which is included, however, in
Cinque Romanzi
). In this story, the widowed protagonist, after a sleeping pill-ridden holiday in which she then achieves a brief spell of reprieve in a bachelor girls' apartment, noting down her dreams and distancing herself from her past, is summoned back to the city where her children have scarlet fever. On the train, her maternal anguish makes her push away pleasant memories and wonder, in a typically Ginzburg-esque anti-epiphany, how she could have spent the entire summer in such futile pursuits. Her dispossession prefigures, in a minor key, the end of "My Husband," one of Ginzburg's signature fictions:
Two days later I accompanied my husband to the cemetery. When I came home I wandered around the rooms in a daze. The house had become dear to me but I felt as though I didn't have the right to live there, because it didn't belong to me, because I had shared it with a man who had died without uttering a single word to me. Yet, I didn't know where I should go. There wasn't a single place in the world I wanted to go.
I find she's at her best at that length she most favored, 50 to 80 pages, so common in France and Italy, so frowned on in English fiction. But in her shortest stories she gives us a glimpse of her world that – while it inevitably compresses her insights and limits her canvas, as she's not an expansive writer – reveals something crucial about the life of her protagonists' minds, and these are perhaps the easiest introduction to her work. She's also a master of that essential quality of the short story, the nuanced and subversively poetic ending. As a writer of fiction, long or short, I believe she deserves the ultimate accolade: there might be others who remind you of Ginzburg, but Ginzburg – major or minor, that's a matter of taste – reminds you of absolutely no one except herself.