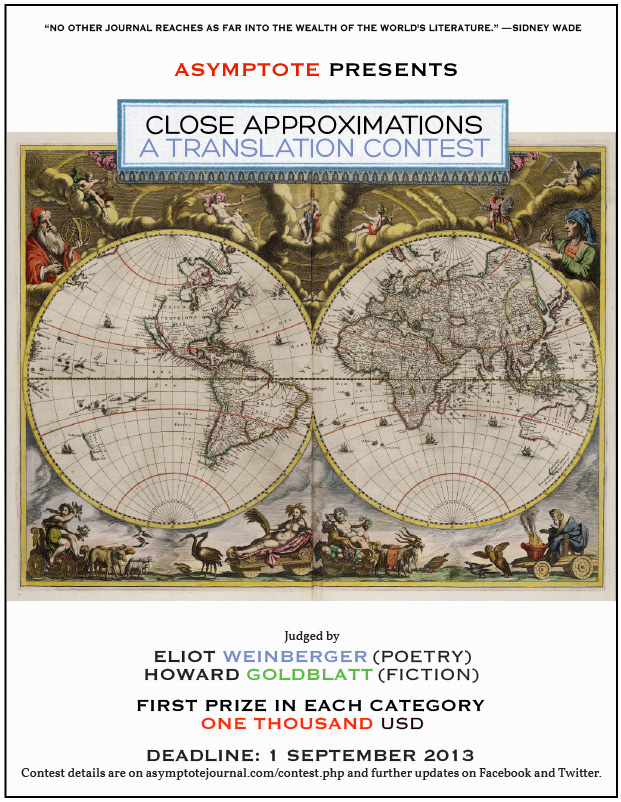 One promise
Asymptote
made during our Indiegogo campaign was "to hold a new international translation contest." Well, here it is. Our first post-campaign venture, born from
your
amazing support, is to give
our
support to emerging translators the world over. Ready for your big break?
DETAILS
"Close Approximations," our new international contest, will be judged by two translators we greatly admire,
Eliot Weinberger
(poetry) and
Howard Goldblatt
(fiction), and we're offering
1,000 USD
to the winner in each category, as well as publication in
Asymptote
. The winners and shortlist will be announced in our January 2014 issue.
Eliot Weinberger
's books of literary essays include
Karmic Traces
,
An Elemental Thing
, and
Oranges & Peanuts for Sale
. His political articles are collected in
What I Heard About Iraq
and
What Happened Here: Bush Chronicles
. The author of a study of Chinese poetry translation,
19 Ways of Looking at Wang Wei
, he is the current translator of the poetry of Bei Dao, and the editor of
The New Directions Anthology of Classical Chinese Poetry
and a forthcoming series of classics from Chinese University Press of Hong Kong. Among his translations and editions of Latin American poetry and prose are
The Poems of Octavio Paz
, Jorge Luis Borges'
Selected Non-Fictions
, Xavier Villaurrutia's
Nostalgia for Death
, and Vicente Huidobro's
Altazor
. His work has been translated into thirty languages.
Howard Goldblatt
has translated several books by Chinese novelist and 2012 Nobel Prize Winner Mo Yan. Other writers he has translated from the Chinese include virtually all major contemporary novelists. Recent translations include
Wolf Totem
by Jiang Rong, Su Tong's
Boat to Redemption
, and, with Sylvia Li-chun Li, Bi Feiyu's
Three Sisters
, all winners of the Man Asian Literary Prize. In 2000 Goldblatt won the National Translation Award for his rendition of Chu Tien-wen's
Notes of a Desolate Man
, and received a Guggenheim Fellowship in 2009. He is a contributing editor at
Asymptote
.
HOW TO APPLY
Submit 5 to 10 pages of translated poetry or up to 25 pages of translated fiction via the "Contest" option of our
Submittable
page. Please take note that our submissions window will open on 1 June 2013 and close on 1 Sep 2013.
Make sure to follow these guidelines:
• Poetry entries must be single-spaced unless otherwise necessary. Fiction entries must be double-spaced in a standard 12-point font.
• Each submission, uploaded as one single Word document, should consist of:
• A cover page bearing the names and bios of the author and translator and—in cases where the author's work is not in public domain—a statement confirming that the permission from the rights holder has been obtained.
• The English translation, followed by
• The original text.
• There will be a nonrefundable contest fee of 10 USD.
• We ask that proper documentation of permissions (that is, a letter bearing the signature of the author or, if the author is deceased, the relevant rights holder) is already in order
before
you send us your submission. Unauthorized translations of works that are not yet in public domain will be immediately disqualified.
• We ask that submissions be limited to translations of writers who have yet to appear widely in English but are generally available in their native tongue.
• Translations must be into English, but may come from any language besides English.
• Translations must not have been previously published. Simultaneous submissions are not allowed.
• Only one entry is allowed per individual for poetry and up to two entries are allowed per individual for fiction. If submitting two entries, please send each separately (the 10 USD contest fee will apply to both).
• Collaborative translations are allowed.
• Preference will be given to translators who are early in their careers. (If you have published only one book-length work of translations or none so far, we will consider you "early in your career.")
• Persons who have served or are currently serving as editors, special correspondents, or interns at
Asymptote
are not eligible to enter these contests.
• By submitting your work, you are granting
Asymptote
one-time-only rights to publish the work (if it is selected) online and in a chapbook of winning entries that may be produced to cover the costs of organizing the competition.
• We reserve the right to disqualify or reject any entry that we determine, in our sole and absolute discretion, does not meet the above criteria. The judges' decisions are final.
Queries about the contest can be sent to
editors@asymptotejournal.com
with "CA CONTEST" in the subject line. We look forward to reading your work.
Interested in joining Asymptote? We just posted up our recruitment call here. Application deadline: 3 June 2013