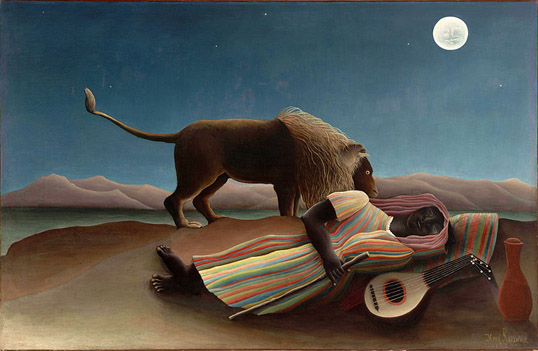 Henri Rousseau. The Sleeping Gypsy. 1897.
Amazing night
Mysterious desert moon
A young woman pillows her head on the sand
A lute, a simple jug of wine
Does the woman sleep or dream?
Desert night
A lion bends down and looks
Touching the woman's hair
The light of his eyes is hypnotic
Will the lion kiss the woman, or swallow her up?
Is the lion a manifestation of time
Coupled with cruelty?
White desert night
Black woman
Lute, jug of wine
Abundant full moon
Is this the riddle of naïve art?
Will the lion kiss the woman or consume her?
Who knows what the lion thinks?
I understand, Henri, I understand
Cruelty and time will bow in homage
To pure, harmonious beauty
Gentle desert night
A woman sleeps calmly
Lute moon
Jug of wine moon
The lion bends down and looks