Looking for new books to read this year? Look no further with this edition of What's New in Translation, featuring new releases translated from Kurdish, Dutch, and Spanish. Read on to find out more about Abdulla Pashew's poems written in exile, Tommy Wieringa's novel about cross-cultural identities, as well as Agustín Martínez cinematic thriller.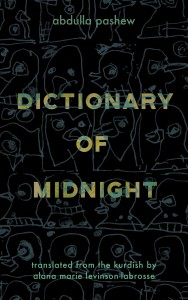 Dictionary of Midnight by Abdulla Pashew, translated from the Kurdish by Alana Marie Levinson-LaBrosse, Phoneme Media (2018)
Review by Jacqueline Leung, Editor-at-Large for Hong Kong
Dictionary of Midnight is a collection of several decades of Abdulla Pashew's poetry as he recounts the history of Kurdistan and its struggle for independence. Translated from the Kurdish by Alana Marie Levinson-LaBrosse, the work includes a map of contemporary Iraq and a timeline of Kurdish history for those unfamiliar with the plight of the Kurds, something Pashew, one of the most influential Kurdish poets alive today, has taken upon himself to convey and to honor.