ANATOMY OF AN EDITOR'S NOTE
World literature is the literature of many worlds[1], intersecting on one "endlessly rotating earth[2]" (Chen Li). This summer, come play Spin the globe![3] with the only magazine that could assemble never-before-published[4] writing from 27 countries and 21 languages[5] in one issue. Alongside an interview with Michael Hofmann, fiction by master story-teller Mercè Rodoreda, poetry by Ghassan Zaqtan and Marosa di Giorgio, essays on Bohumil Hrabal and Tove Jansson[6], and reviews of the latest titles, we celebrate the very best the canon has to offer via a showcase of contest winners[7] picked by judges David Bellos and Sawako Nakayasu. While new words pave the way for new worlds, every one of these gems, to quote repeat contributor Ko Un[8], also represents "[a] world…in want of the world.[9]"
Noemi Schneider's Life as Trauma[10] introduces us to Binjamin Wilkomirski, the author of a fabricated Holocaust memoir, and hence a man who has never existed. In Orshina, Hanit Guli's poignant drama, a promise to the family is revealed to be empty when, all packed up, the father remembers he has no address to provide the movers. And in Mercè Rodoreda's Aloma, remembrance of childhood loss punctuates a woman's mundane existence, just as Ah-reum Han's tribute to Kerascoët's "dazzling, ruthless worlds" is interwoven with the mourning for a deceased teacher. While Samudra Neelima's narrator plants "black seeds" in order to grow a "beloved black tree," Alejandro Albarrán desires to "write the amputation"—both poets sketch writing's failure, but, through performing failure, succeed.[11]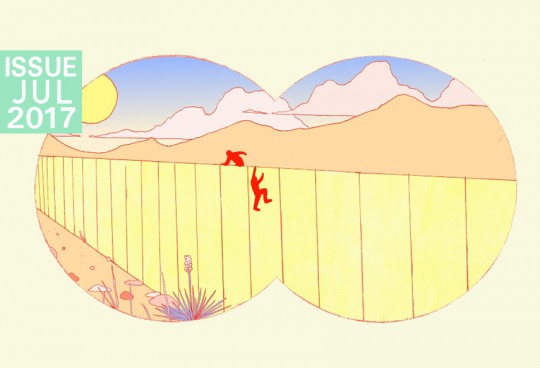 Thus fractured worlds give way to thrilling horizons, illustrated lavishly by guest artist Emma Roulette. In Margarita García Robayo's compact crónicas[12], the city of Buenos Aires comes alive through multiple open windows. Elsewhere, Karin Boye presents a sweeping vision[13] of modern life that transports us from a fashion boutique to the Scottish highlands and the open sea. In the visual section, 2017 Prix Net Art winner Bogosi Sekhukhuni champions the Internet as a utopian "grouping of bodies" that allows us to "process and communicate in more expanded ways than before." And in B. Jeyamohan's breathtaking fable of linguistic renaissance, Periyamma's Words, new words literally usher forth new worlds[14].
Suchitra Ramachandran, who brought Periyamma's Words into English from the Tamil, is notably our first-ever translator from an Asian language to take top honors[15]. As with Romanian translator Anca Roncea[16], her counterpart in the poetry category, she walks away with 1,000 USD in prize money. Discover the judges' full citations—and four more stops on our world tour—here. And don't forget to keep an eye on our blog, where we'll soon post interviews (one of them via podcast!) with each of these six emerging translators.
This year's Close Approximations marks the third edition of our contest[17], and saw a total of 343 submissions from all corners of the globe[18]. Without the support from readers like you, we couldn't continue to advocate for emerging translators, especially from underrepresented languages. If you've enjoyed our showcase of winners and would like to see this competition continue next year, make a one-time tax-deductible donation or sign up as a sustaining member today! For a limited time, we'll even throw in a bonus perk of an e-book anthology of our contest winners[19], featuring exclusive supplementary material. So many words[20]—and so many worlds! Let's discover them together.
—Lee Yew Leong, Editor-in-Chief
[1] More than a tautology, this essential definition takes us beyond notions of "center" and "periphery"; I've always believed that a journal of world literature sustained by editors from around the world stands a better chance of actualizing its potential than one based in a fixed location and reliant on outsourced editors.
[2] I'm struck by how this description might also be a metaphor for Asymptote's ever-changing staff.
[3] I have no scientific basis for my claim, but from empirical observation readers seem to prefer our abundant format to strictly country-themed issues because it fulfills world literature's promise of adventure; there's the frisson that arises from juxtaposition, yes, but more importantly, by letting pieces from different countries speak to one another, we lay bare their universality while advancing our intercultural mission.
[4] This is usually not picked up on, but our rigor also extends to the freshness of our offerings.
[5] Santhali is the new kid on the block in the Summer 2017 issue.
[6] It's a marketing strategy to list the big names right off the bat, but we are just as proud of the lesser known authors we publish, whose works are subject to the same rigorous criteria. Rather, I should say that works by literary superstars are subject to the same scrupulous selection process as submissions by unknowns, since an editor can sometimes be tempted to admit a big name by closing one eye to the quality of the manuscript.
[7] This showcase was originally meant for Spring 2017, but we pushed it back by a quarter to answer Trump's executive order with a Banned Countries Feature.
[8] Though Ko Un's career spans 53 years and 150 books, these moving poems represent his first love poems, and landing them was a coup.
[9] While the article sleight-of-hand (subjective "a" vs noumenal "the") lends itself readily to Schopenhauerian interpretation, I like the quotation for what it might mean for world literature: i.e., that we should be shifting toward a paradigm where non-Western writers need not always look over the shoulders of their Western readers to explain their reality; instead, readers should do some of the footwork and meet the authors' work (and their worlds) halfway.
[10] Nonfiction Editor Joshua Craze, in his section editor's highlights, explains why he finds this piece so compelling: "Schneider doesn't pass judgment on Wilkomirski; his fictional memoir and assumed identity were tried in court and in the media. Rather, her haunting essay examines what it means to live a false life: can a false life be lived truthfully, or is it the case, as Adorno suggests, that "Es gibt kein richtiges Leben im Falschen" (A false life cannot be lived correctly). Through the story of Wilkomirski, Schneider explores a broader question: what, in the false, is true?"
[11] Poetry Editor Aditi Machado sends me notes about each issue's poetry lineup to help with writing the Editor's Note. The ecological theme that she picked out as a unifying theme for her section couldn't be worked into this issue's introduction, alas.
[12] After the Michael Hofmann interview, by far the most popular article of Summer 2017 as reflected in our internal survey filled out by 70 respondents, Margarita García Robayo's microfictions, deftly rendered by Alicia Maria Meier, tied for second spot with Suchitra Ramachandran's prizewinning translation and are certainly worth checking out.
[13] As if a traditional Chinese scroll was being unrolled in front of our eyes.
[14] Copy K.O.!
[15] I probably did a little dance on learning the news that David Bellos's pick for first prize winner was an Asian translator working with an underrepresented language. Advocating for a more inclusive world literature is central to our mission after all. Check out Dominick Boyle's inspiring podcast interview with Suchitra Ramachandran, who turns out to be a post-doctoral neuroscientist based in Basel, Switzerland—where Dominick lives! Here's a snippet: "I read it for the first time when it was published in 2015 [and] realised it's both a translator's dream and nightmare because it layers so many things and so many concepts and so many symbols one over the other. There's also an inside joke in translating the story, because while the narrator is teaching Periyamma English within the story, in the act of translation, I'm trying to teach the readers of the story Tamil."
[16] We also interviewed Anca on the blog here, along with the other four winners.
[17] Submissions to the fourth edition of our contest closes October 1, so if you'd like to send in your entry, don't wait to check out the guidelines!
[18] In addition to open submissions all through the year—something that not all journals (including Words Without Borders) have—these translation contests help us cast our nets far and wide for the best work to feature in the magazine. For me, they also represent a decentralization of sorts. It used to be that emerging translators' only options for getting attention (and a boost to their career) was through a PEN/Heim grant in the U.S., or since 2012, a PEN Translates award in the U.K. No offense to PEN organizations, but more is definitely the merrier in this case. In fact, in 2016, we even leveraged our partnership with The Guardian to run the prizewinning works in what was arguably the highest-profile weekly showcase of translation then—no other grant could have offered this opportunity, and I'm thrilled to say that one of these winners, Ruth Diver, went on to translate the 2017 Prix Goncourt winner for a first novel on the basis of her Close Approximations win.
[19] Become a sustaining member by Oct 1, we'll throw in three more ebooks!
[20] As noted in a previous blog post, an issue typically features 92,400 words.
*****
Read more from our #30issues30days showcase: