Under an authoritarian dictatorship, a single sentence can be the difference between life and death. In our July Asymptote Book Club selection, Beatriz Bracher's I Didn't Talk, retired professor Gustavo is preparing to leave São Paulo. First, though, he has a more demanding journey to make: a journey that will take him back to a darker time, when he and his brother-in-law were tortured by Brazil's military regime. Did he talk?
Adam Morris' English translation of I Didn't Talk, published by New Directions, has been described as a "brilliant, enigmatic rumination of a novel." We're delighted to be sharing it with our Book Club subscribers across the USA, the UK, and Canada.
If you're not yet a subscriber but want to sign up in time to receive next month's selection, all the information you need is over on our official Book Club page. Meanwhile, subscribers are more than welcome to join the online discussion via our facebook group.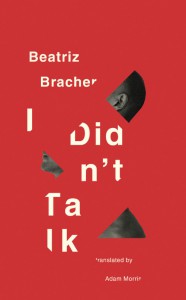 I Didn't Talk by Beatriz Bracher, translated from the Portuguese by Adam Morris, New Directions, 2018
Reviewed by Georgia Nasseh, Assistant Editor
"I didn't snitch—I almost died in the room where I could have snitched, but I didn't talk."
Beatriz Bracher's novel I Didn't Talk, set in São Paulo circa 2004—the date of the novel's publication, and precisely forty years after the coup that led to the installation of a military dictatorship in Brazil—is the story of a teacher on the brink of retirement, who has had to live, for the past decades, with the tacit accusations of having betrayed Armando, his brother-in-law, when under torture. A "severe" character, in the words of Bracher herself, the irritable and often misunderstood Gustavo emerges, by the end of the narrative, as a faithful, unromanticised, yet poignant portrait of a survivour of Brazil's anos de chumbo.1
Whilst centered on the memories of an individual, I Didn't Talk is anything but a straightforward memoir. It is laden with silences: his wife, he is told, died in exile "without ever finding out that I'd said what I never said." The narrative is simultaneously comprised of an extensive amalgam of voices—those of his older brother in the shape of his autobiographic novel, of his younger sister in the shape of her diaries, of his own younger self in the shape of his reports on the state of education, as well as of those of the Brazilian poet José Cabral de Melo Neto and the sambista Candeia, amongst others—which function as a sort of collective memory and further reveal Gustavo's own psychic lacunae.2
There are, of course, revelatory moments. And though they are subtle, they are brilliantly crafted. Gustavo, at one point, reflects: "Oh, how thought betrays. Next to error, betrayal is my engine. I was going to talk about two beautiful women who attracted me, as if I meant nothing by it, only to illustrate a prosaic analogy, and I've returned to soldiers and death. Soldiers and death." Here, as throughout the whole of I Didn't Talk, recollections of Gustavo's traumas creep up from his everyday, "in line at the bank, on the bus, at the bakery counter," and confront him with that which he has attempted to silence.
Adam Morris's translation, moreover, allows us to reflect on the intersection of one of the novel's main themes, betrayal, and the act of translation. Gustavo, a linguist, in his habit to draw the reader's attention to the words on the page, explains:
The old play on words—traduttore, traditore—takes its meaning not merely from the phonetic similarity between the two words, or the deeper meaning it gives to the act of translation. The similarity is simple and it's right there in the root of the words, both of which refer to act of passing from one side to another. We know that this going–over is never innocent and that nothing that crosses over can ever come back unharmed.
Despite Gustavo's pessimistic conclusion, Morris's translation of Beatriz Bracher's I Didn't Talk succeeds in its fidelity to the profound brazilianness of the original—its sounds, its cadences, its turns of phrase. And it raises questions as to whether a work of literature should, in this crossover, invariably be harmed. With this translation, Adam Morris introduces a singularly powerful voice of Brazilian contemporary literature to English–language readers.
1 The phrase "anos de chumbo" (in English, "years of lead") refers to the period of heightened repression during Brazil's military dictatorship, from 1968 to 1974.
2 In Portuguese, the word "sambista" refers to a person who composes "sambas", a form of Brazilian music.
Georgia Nasseh was born and raised in Rio de Janeiro, Brazil, where she lived until her undergraduate years at Queen Mary, University of London, where she studied English. She has an MSt in English from University of Oxford, where she is now undertaking a DPhil in Medieval and Modern Languages. Her research focuses on multilingualism and translation in Luso-African literatures, particularly in the work of José Luandino Vieira.
*****
Read more about the Asymptote Book Club here: