The Asymptote Book Club will be celebrating our six-month anniversary with a first (virtual) trip to China. Back in 2014, Words Without Borders described The Chilli Bean Paste Clan (我们家 in the original) as China's "best untranslated book."
Four years on, Yan Ge's "delightfully irreverent" novel is finally appearing in English, thanks to Balestier Press, and Asymptote Book Club members will be among the first to sample a "masterful translation" by Nicky Harman.
We'll be hosting a full discussion of The Chilli Bean Paste Clan on our dedicated Book Club page; to get you started, here's Asymptote Assistant Editor Kevin Wang's take on the novel: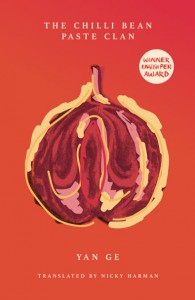 The Chilli Bean Paste Clan by Yan Ge, Translated by Nicky Harman, Balestier Press, 2018
Reviewed by Kevin Wang, Assistant Editor
The Chilli Bean Paste Clan, delightfully irreverent and dead-on in its descriptions of a dysfunctional modern family, resembles an uproarious dinner party. A storm of conflict and hostility converges upon siblings preparing for their matriarch's eightieth birthday celebrations in a small Sichuan town. Every character has a secret to be revealed, and a re-reading is needed to catch the hints and subtexts running throughout the novel. At the helm of the drama is Dad, who between drinking, smoking, and running between wife and mistress, is the boss of a factory that produces the legendary Sichuan chilli bean paste. The fiery heat of the peppers encapsulates the town's spirit: "The thing is, the townsfolk grew up with a hole in their tongues. In fact, they were almost born eating Sichuan pepper powder. Even rice porridge needed mala: the numbing, tingling ma of Sichuan pepper and the hot, spicy la of the chilli. They could not imagine life without that numbing-hot duo."
The family's three generations of misfortunes and windfalls reflect the past four decades of Chinese history. But the town is a long distance away from Beijing, and instead of evoking narratives of national trauma and triumph, Yan Ge conjures images of the past through Dad's nostalgic memories of roadside food stalls, narrow dirt roads, and childhood shenanigans. Nicky Harman's masterful translation, sensitive to the flavorful Sichuan dialect and shades of meaning in the language, is never short of creative English renditions of Chinese idioms and Dad's obscenities. Leaping off the page is the author's love for this town and its people—imagined, familiar, and real.
Kevin Wang is an assistant editor at Asymptote. He was born in Kaifeng, China, and is currently based in New York City. He studied English literature at Skidmore College and will begin an MFA in nonfiction and literary translation at Columbia University this year.
*****
Read about more Asymptote Book Club titles here: