A few days ago, just as the busy Christmas shopping season in London got underway, Oxford Circus underground station was evacuated with thousands of people fleeing from one of the city's busiest spots. Soon it turned out that what triggered the panic weren't shots fired but rather an altercation between two men on one of the platforms. Fear has now pervaded our everyday lives.
Fear is Everywhere. European Literature Days couldn't have chosen a more apt theme for the time in which we live. "Fear of those who flee and fear of refugees; anxiety about poverty and collapse; fear of religious fundamentalism and the implosion of values; fear of technology and of technology making humans obsolete; fear of permanent communication and language loss; fear of disorientation as well as of total control—the list could go on endlessly." This is how the Artistic Director of the European Literature Days, Austrian writer Walter Grond (whose latest book, the historical novel, Drei Lieben/Three Loves, was published earlier this year), defined the headline theme of the gathering of leading European authors, this year held from 16 to 19 November in Spitz on the bank of the Danube in Austria's wine region.
Climate change is another major source of fear today, although to fully grasp its far-reaching societal implications we sometimes need a jolt from writers such as Vienna-based German writer Philipp Blom. In the opening event, Austrian author Robert Menasse, winner of the 2017 German Book Prize for his novel Hauptstadt (The Capital), grilled Blom about his latest book, Die Welt aus den Angeln (The World Unhinged). Exploring the Little Ice Age in the seventeenth century, the book shows how an average cooling of the atmosphere by a mere two degrees Celsius profoundly changed European society in ways that were both negative (triggering mass witch hunts) and positive (ushering in the scientific era). Yet people who experienced those changes were unaware of them at the time and we too are prone to fall into the "trap of normalcy": believing that the way we live now is normal and that life can't be any different. "We live in societies," Blom said, "which do not want a future; we just want to endlessly extend the present."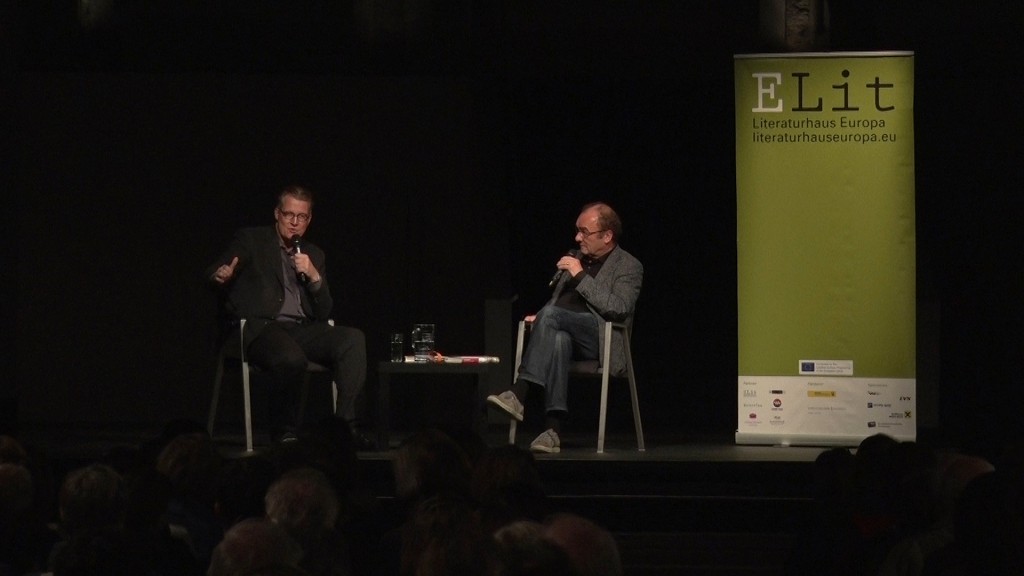 Philipp Blom (L) with Robert Menasse
Few people are better qualified to discuss fear than Russian writer Sergei Lebedev. His novels and The Year of the Comet (trans. Antonina W. Bouis) shed light on the Gulags and other dark periods of Russia's history, while in his journalism he champions people persecuted for seeking the truth. In his keynote text Lebedev writes: "The way silence becomes taciturnity, a phenomenon becomes a characteristic, is how fear mutated, crept and permeated habits, character traits, life strategies, choices, consciousness and language." Russian society is dishonest in dealing with historical trauma: a monument to the victims of Stalinist repression was recently unveiled in Moscow but there are no monuments in the places where the horrors actually happened, as Lebedev said in conversation with Carl Henrik Fredriksson and fellow Swedish writer Elisabeth Åsbrink. The current Chair of Swedish PEN, Åsbrink started out as a journalist before turning to non-fiction couched in poetic language, winning the August Prize in 2011 for And in Wienerwald the Trees Are Still Standing, a book that explores anti-Semitism in Swedish society using the example of the founder of the IKEA furniture store. In Spitz she presented her latest book, 1947. Where Now Begins, in which she demonstrates that the seeds of many of today's major issues were sown in that ostensibly unremarkable year.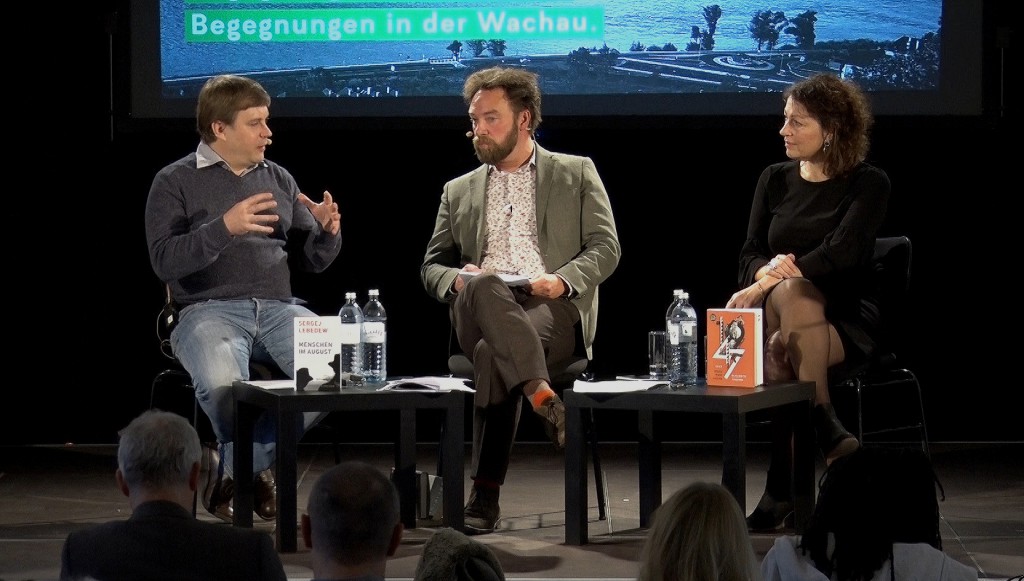 Sergei Lebedev (L) and Elisabeth Åsbrink (R) with moderator Carl Henrik Fredriksson
Two Paris-based authors, Gila Lustiger and Karim Miské discussed the visceral fear generated by terror. Published in the aftermath of the Paris Hebdo attack, Arab Jazz (English translation by Sam Gordon) by the French-Mauretanian Miské is a murder story set among the immigrant communities of the 19th arrondissement. It explores the phenomenon of "gangster-Salafism," which found its horrifying culmination in the November 2015 terrorist attacks in Paris. Lustiger, who writes in German, grapples with the shock of these attacks in her essay Erschütterung (Shattered). In the weeks and months that followed the terrorist attacks she obsessively followed the news, particularly on social media, in an attempt to understand how social exclusion and unemployment in the banlieues have produced a whole generation of disaffected young people who have come to reject the French language itself, the only means of communication available to them.
Karim Miské (L) and Gila Lustiger (R) with moderator Katja Petrovic
On the panel entitled "From Fukushima to the Gobi Desert – the Wounds of Our Time," two writers from Central and Eastern Europe confronted their fears as they are drawn to ever more distant destinations. Polish writer Andrzej Stasiuk has honed a distinctive style of travel writing, a kind of litany of observations and reflections on the shabby and forgotten easternmost reaches of Europe. "What I like best of all is reading a book and driving a car," he confessed, talking about his most recent book, Wschód (The East, 2014), which describes his road trip to Mongolia. Slovenian poet, writer, and editor Aleš Šteger (his novel Absolution was recently published in English, translated by Urška Charney and Noah Charney) has deliberately pushed himself beyond his comfort zone in his latest project, The Log Book of the Present. In a style that is "not reportage but rather a protest provoked by a particular place," he has covered issues such as the aftermath of the Fukushima nuclear disaster and the killing of the forty-three students at the Ayotzinapa Rural Teachers' College in Mexico. In a session on "Designed Feelings, Deserted Worlds," two Berlin-based authors talked to Katja Petrovic and read from their recent works. German writer Leif Randt kicked off with his dystopian novel Schimmernder Dunst über Toby County (Shimmering Mist Above Toby County), while Czech author Jaroslav Rudiš presented Národní třída (National Avenue), his 2013 novel recently published in a German translation by Eva Profousová.
Rosie Goldsmith, whose European Literature Network closely cooperates with Literaturhaus Europa, the host of the Spitz gathering, presented the two stars of the event, Deborah Levy and Elif Shafak. Before giving a mesmerizing reading from her short story collection, Black Vodka, Levy returned to the theme of fear, noting that literature would be impossible without Angst as "there would be no story if we were all happy." Before discussing—as passionately and eloquently as ever—her literary work as well as her advocacy of women's and human rights, Elif Shafak received the Tolerance in Thinking and Acting Prize of Honour of the Austrian Booksellers. In her laudatio (full text here) Rosie Goldsmith praised Shafak "for whom words have power and matter as much as powerful deeds" and as a writer "Turkish by birth but a citizen of the world who lives a life of multiculturalism, multiple identities and multilingualism: that rarity of modern times, a public intellectual, qualified with all the personal legitimacy and academic tools of that trade."
A team of researchers from universities across Europe—Massimo Salgaro (Verona), Theresa Schilhab (Aarhus), and Adriaan van der Weel (Leiden)—presented the preliminary results of E-Read, a project aimed at gathering empirical data on how digitization has affected our reading habits. "The objective is to replace widespread speculations about the effects of digital reading with facts, figures and empirical data, and to relieve the fear (yes, our headline theme is back again) particularly felt by a conservative cultural elite about the intellectual apocalypse," said German writer Rasha Khayat, reporting on the discussion in Spitz in a live blog on the European Literature House website. "In fact, the future of reading doesn't seem as bleak as it is always painted by some traditionalists. We are reading more, more quickly and more diverse material than twenty years ago. However, quite marked differences can be identified between the digital natives who were already sort of born with a smartphone in their hands, and the digital immigrants who still remember the good old dial telephone—they had to learn how to use touchscreens and e-readers just as they once learned to eat with a knife and fork."
Photo credit to Clemens Schmidtbauer
Julia Sherwood is Asymptote's Slovakia Editor-at-Large. She was born and grew up in Bratislava, Slovakia, and worked for Amnesty International in London for over twenty years. She is now based in London and works as a freelance translator from and into English, Slovak, Czech, Polish and Russian. Her book-length translations include works by Balla, Hamid Ismailov, Daniela Kapitáňová, Hubert Klimko-Dobrzaniecki, Uršuľa Kovalyk, Peter Krištúfek, and Petra Procházková.
*****
Read more dispatches from the Asymptote blog: