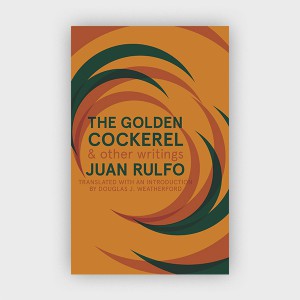 The Golden Cockerel & Other Writings by Juan Rulfo, translated by Douglas J. Weatherford, Deep Vellum
Reviewed by Nozomi Saito, Senior Executive Assistant
Juan Rulfo's prominence within the canon of Mexican and Latin American authors has been undeniable for some time. Regarded by Valeria Luiselli as one of the writers who gave her a deeper understanding of the literary tradition in Mexico and the Spanish language, and depicted by Elena Poniatowska as a figure deeply rooted in Mexican culture, it is clear that modern Mexican and Latin American literature would not be what they are without Rulfo. Indeed, Rulfo often has been credited as the figure to whom the Latin American boom of the 1960s and '70s is indebted, and Gabriel García Márquez has said that it was because of Rulfo's works that the former was able to continue writing and ultimately produce One Hundred Years of Solitude.
Yet for all the recognition that Rulfo's works have so rightly earned, there has been a persistent misconception that he only published two works of fiction, The Plain in Flames (El Llano in llamas, 1953) and Pedro Páramo (Pedro Páramo, 1955). The Golden Cockerel (El gallo de oro, c. 1956) for too long remained excluded from Rulfo's oeuvre, even being miscategorized as a text originally intended for the cinematic screen. To reclaim and secure its position in Rulfo's canon, Douglas J. Weatherford has brought forth The Golden Cockerel and Other Writings, which provides deep insight into the work, ruminations, and personal life of the legendary writer.
The result is a text that is refreshing and diverse. The titular story follows the rise and fall of Dionisio Pinzón, an impoverished man whose crippled arm prevents him from farm labor, the only viable work in the town, and whose destiny changes when someone gives him a golden cockerel that has been badly beaten, having comprised the losing side of a cockfight. While the majority of the story follows Pinzón's migration in pursuit of wealth, his path eventually intersects with that of the singer Bernarda Cutiño, familiarly called La Caponera, whose own migratory wanderings lead them from one town to the next, to various cockfights throughout Mexico.
Descriptions of the cockfights and La Caponera's mariachi band evoke aspects of Mexico's particular, vibrant culture, but as Weatherford points out in his introduction, there is a timelessness and geographical homogeneity that infuses all of Rulfo's writing, allowing him to capture a universal quality that speaks to readers across generations and across borders. "The Golden Cockerel" is as much a story of the destructive force of greed as it is a story of generational inheritance and the pains and destinies that we inherit. The restless wanderings of La Caponera, for example, are explained in the end by the fate of her daughter, Bernarda Pinzón, who shares not only her mother's name, but also her talent for singing and her inclination to wander: "[S]he performed just as her mother had done in her earliest moments, singing songs bursting with her own sense of abandonment" (104).
Generational trauma, though not treated politically in "The Golden Cockerel," cannot be divorced from historical, political, and geographical contexts. Weatherford suggests that the economic conditions in these stories convey a setting in post-Revolutionary Mexico. But looking outside of "The Golden Cockerel" itself to the other writings in the collection also provides another way for readers to reflect on just how Rulfo situated his stories within the broader arcs of history and conflict.
For instance, although in his fiction, we see little mention of colonialism, there is a brief allusion to Spanish colonialism in "Castillo de Teayo." The story is a nonfiction travel narrative that recounts Rulfo and his companion's adventures at Castillo de Teayo, where a guide who seems to materialize out of the jungle leads the pair on an unsolicited tour of the ruins. As the tour draws to a close, the guide says, "The ones who put an end to the gods of Teayo were those who were called a 'people of reason' and they conquered these lands…" Rulfo's retelling relegates the colonial power to a secondary position, effectively diminishing that power. By choosing not to burden his stories and characters with evocations of a colonial past nor the politically unstable present, Rulfo reclaims the narrative focus for those he saw as the most deserving of our readerly attention: the common people.
For readers both familiar and unfamiliar with Juan Rulfo's writings, the publication of The Golden Cockerel & Other Writings marks a momentous occasion. Published in anticipation of the one hundredth anniversary of the author's birthday, The Golden Cockerel brings to light many works that have been translated into English for the first time.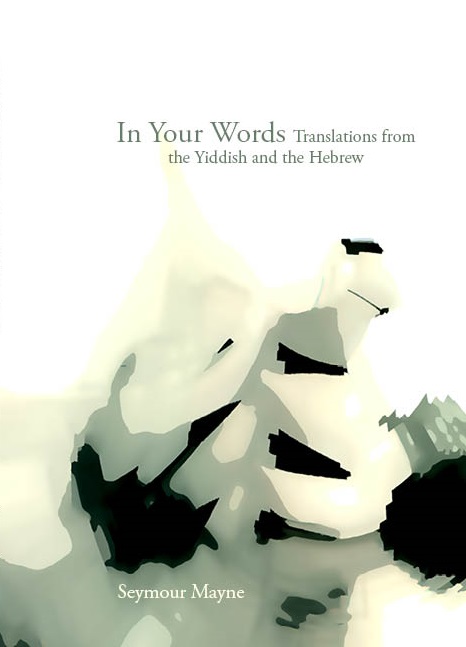 In Your Words: Translations from the Yiddish and the Hebrew edited and translated by Seymour Mayne, Ronald P. Frye & Co.
Reviewed by MARGENTO, Editor-at-Large for Romania & Moldova
How could an anthology of poetry in translation be "personal"? Seymour Mayne's In Your Words: Translations from the Yiddish and the Hebrew, introduced in the preface as a "personal anthology" is not so much personal in the sense of Jerome Rothenberg or Charles Bernstein's "writing-throughs"—semi-improvised translations or variations based on another poet's work—but more in the sense that the juxtaposition of the featured writers make up a mosaic of intimately personal preferences. The dictions, tones, locales, and themes ultimately amount to an allusive yet pregnant self-portrayal of the editor-translator himself. There is indeed a deep biographical connection between the selected poets and the editor. All Yiddish writers in the anthology, for instance, hailed from Eastern Europe like Seymour Mayne's parents, and all but one eventually settled in Montréal (the young Mayne met the one poet who hadn't at a reading at the Montréal Jewish Public Library), a city whose cultural-literary milieu the translator so vividly describes in his preface.
A strong sense of the community pervades the anthology, as if the selected writers have gathered for a family reunion to which the reader is warmly invited, provided that they have the stomach for some acutely acidic and unforgettably poignant flavors. At times a familial sense is even literally invoked—Michel Ravitch, for instance, is introduced as an "avuncular poet."
The poems gathered in this book are now and then imbued with a lingering sense of the tragic that highlight confession, landscape, and history alike. From the heart-wrenching grief of a bereaved father in a poem by J.I. Segal:
"Memory sweeps up like a mist
from the roads and fields.
Sweet, the mouth of the fresh rain
in the new summer's sun.

My daughter, little bride,
in your white silk and silver veil
we must give you away"
to Abraham Sutzkever's brutal rendering of the holocaust in all its monstrosity, retaining part of the word's original sacrificial meaning:
"every hour, every day
[…]
is an altar ready set and burning within you
where everything gets swallowed up, all you feel and see,
yet still you sing
as you consume
yourself"
The stylistic range of pain and suffering is impressively wide, which is an accomplishment for a 100-page collection featuring only 8 poets.
Sutzkever, once dubbed by The New York Times as the poet of the Holocaust, is given the largest space of the Yiddish section, and rightly so. His poems are the most powerful in the collection. In the facetiously-titled "Poem About a Herring," a mother feeds her hungry son a herring right before he is shot and dumped in a lime pit (one wonders whether by the Nazis or the Soviets, since the poem is dated, "Warsaw, August 1946," hence after the Red Army had "liberated" Poland):
As if it were some silver bounty
the young teeth
grabbed the herring with pleasure.
But quietly as though a nightingale
suddenly burst into song
from far away across blue waters
a fiery string of notes
of a sudden
gave his head such a jolt.
And out of the broken circle
the naked child
slid punctured into a pit.
Mayne is then a truly refined arranger, for in order to hit such a paroxysmic note, he spans forty-odd pages of subtle crescendos, progressions, and counterpoints skillfully selected from a handful of otherwise stylistically diverse poets: from Rachel Korn's obsession with silence to Michel Ravitch's disconsolate tone, to Segal's imagery and atmospherics.
Just as Sutzkever dominates the Yiddish section, Moshe Dor is the towering figure of the Hebrew chapter, closely followed by Shlomo Vinner, an impressive poet-mathematician who, like most of the selected authors and the translator himself, has been going back and forth between Israel and Canada and the US his whole life, both physically and literarily. Moshe Dor for one is a patriarchal figure of Israeli poetry, the leader of the Likrat group—to which the better-known (in the English-speaking world) Yehuda Amichai also belonged. And indeed, Amichai's obsessive themes—love in time of war (and at war), agnostic mysticism, modern Israel versus its ancient myths and traditions, life as diasporic condition, etc—are all masterfully handled by Dor as well, only perhaps with a less incisive tackling but consequently with subtler refinement and richer connotations. The whole Hebrew section is actually more "modern" than the Yiddish one, with cityscapes and urban developments intermixed with Torah references and obsolete ritualistic diction. Mayne has done a remarkable job rendering these incongruences both faithfully and fluently into English.
But what the translator has done perhaps most remarkably is offering some really rare gems to the English reader, from writers and/or writings that are otherwise very hard if not virtually impossible to find anywhere in translation. Even with a star like Moshe Dor, his latest English translation came out in 1996, and with J.I. Segal, there are apparently only one or two old translations available in French. And that's still something, since if one wants to find out more about an Israeli poet such as Eytan Eytan, they will most likely find absolutely nothing beyond the one poem and the bio in this anthology—stating he was a poet who was "born in 1940 in the village of Kinneret where he worked as an organic farmer until his death in 1991"—neither on the internet, nor in any (North American) library.
The anthology is therefore a treasure trove of not only very good but also extremely rare poetry, which also fits quite well into Seymour Mayne's work and personality. A legendary figure and outstanding member of the Montréal School of Poets along with his lifetime friends Irving Layton and Leonard Cohen, Mayne enjoys international stature yet has never shied away from embracing the local or obscure, yet richly meaningful vernacular, since, as he contended in this collection, "isn't everything flight and song?"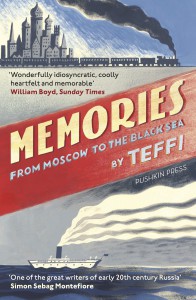 Memories: From Moscow to the Black Sea by Teffi, translated by Elizabeth Chandler, Robert Chandler, Irina Steinberg, Anne Marie Jackson, Pushkin Press
Reviewed by Theophilus Kwek, Chief Executive Assistant
President Trump's election, and the travel ban that followed closely on its heels, has coincided with—and in some cases prompted—a surge in the literature of exile, some of which we've had the privilege of showcasing here at Asymptote. Stories of exile are often known (and loved) for their bleak beauty: through them, readers who enjoy more rooted lives can learn the truths of anxiety and loss with first-hand clarity, especially in the most raw and masterful cases.
For nearly a century, Teffi's piercing memoir has stood at some distance from this tradition. Laced with the irrepressible humour that made her one of revolutionary Russia's most feted satirists, the text follows with bracing honesty her journey from Moscow (where there is 'no possibility of anything') through Ukraine to the coast of the Black Sea, finally leaving her country behind. Released for the first time in a paperback English translation by the London-based Pushkin Press, this uplifting work can now speak all the more directly to us and to our time.
An incisive introduction by Edythe Haber, one of Teffi's present-day biographers, sets the scene. Born into the old St Petersburg elite, Nadezhda Alexandrovna Lokhvitskaya began writing satirical verse in her twenties under a pseudonym that soon become a household name. As her feuilletons and lyrics gained acclaim, she rode—and doubtless contributed to—a rising 'demand for laughter' in high and low literary circles, noting in 1910 that people were 'longing for a good merry comedy'. By 1918, however, her witty contempt for Lenin had placed her, and sympathetic newspapers, on the wrong side of the new régime. Following the arrest and interrogation of an actress who staged a performance of her work, Teffi set off on a 'reading tour' from which she would never return.
Here is where the narrative begins, and across thirty-one brief chapters, we are never far from the tragicomic trials that Teffi and her companions face. From the ins and outs of life in Odessa ('hardly a city', as she describes it, 'more like one long laugh!'), to the way a bout of Spanish influenza unexpectedly turns the author's room into a popular rendezvous point, Teffi maintains her blunt appraisal of each predicament with self-deprecating grace. The vignettes are handled seamlessly in this translation by Anne Marie Jackson, Irina Steinberg, and Robert and Elizabeth Chandler, and thus allowed to breathe as standalone episodes without losing the overall momentum of Teffi's journey.
What is it that sustains Teffi's wry optimism even as her life seems 'at the mercy of a whirlwind'? It is, of course, partly the effect of the journey itself: by the time she is midway through, her 'wants have grown modest', and even the ever-present drizzle is 'quite cosy and not really even so very wet'. But we also catch glimpses of a deep, celebratory faith, less in the God of the Russian Orthodox tradition (though she is, at one point, mistaken for a church martyr) than in the sheer tenacity of life itself. Arriving 'tired and homeless' in Novorossiisk, she writes:
How it warms the soul to discover—amid naked rock, amid eternal snow, beside a cold, dead glacier—a tiny velvety flower, an edelweiss. In this realm of icy death it alone is alive. It says, "Don't believe in the horror that surrounds us both. Look—I'm alive."
Such moments of strength not only make up the 'living soul' of the book, but transform a set of recollections into an unputdownable read—and make it, in our present climate, a deeply essential one.
*****
Read more book reviews: