This Friday, we present three very distinct reports from the world of literature. Slovakian Editor-at-Large Julia Sherwood looks back at what was a great year of Czech literature in translation and gives us a sneak peek at what to look forward to this year. Her Iranian colleague Poupeh Missaghi reports on language-related issues in a human rights Twitter campaign. And finally, the UK Editor-at-Large M. René Bradshaw tells us where to head for great readings in London this month and next.
Julia Sherwood, our Editor-at-Large for Slovakia, has good news from the publishing world:
Last year proved to be a big year for Czech literature in English translation, with no fewer than eighteen publications from eight different presses at the latest count. They include, to mention just a few, Worm-Eaten Time, poet Pavel Šrut's elegy for his homeland after the Soviet-led invasion of Czechoslovakia, translated by Deborah Garfinkle, and symbolist poet Jaroslav Durych's (1886-1962) 1956 novella God's Rainbow on the expulsion of the German-speaking population from Bohemia after World War II. First published in censored form in 1969, it is now available in full in David Short's translation as part of Karolínum Press's Modern Classics series, which also features Eva M. Kandler's translation of the World War II literary horror The Cremator by Ladislav Fuks, a study of the totalitarian mindset that still resonates today (extract in BODY Literature), and served as the basis for one of the key films of the Czech new wave, directed by Juraj Herz.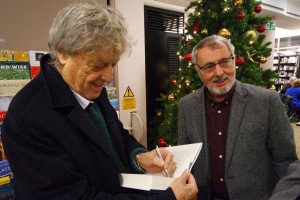 On 30 November, a packed audience at the launch of Antonín Bajaja's Burying the Season (also translated by David Short) at Waterstones Piccadilly in the heart of London included the playwright Tom Stoppard. Stoppard's father came from the town of Zlín, the setting for this novel depicting the early years of communism in Czechoslovakia. Czech literature scholar Rajendra Chitnis introduces the book as part of an Istros Conversations podcast on Audioboom, while Michael Tate of Jantar Publishing discusses on Czech radio the challenges of bringing Central European literature to English readers.
World Literature Today picked Czech writer Magdaléna Platzová's The Attempt as one of its Notable translations of 2016, characterizing it as "historical fiction at its best". In an interview with the Czech cultural bi-weekly A2, the novel's translator Alex Zucker points out that while more books by Czech authors are now being published than ever before, they don't necessarily reach many more readers since—like translated literature in general—quite a few are brought out by small independent presses and are therefore not visible in major bookshops and rarely reviewed.
In 2017, we can look forward to Zucker's translations of two the most acclaimed contemporary Czech writers: Jáchym Topol's Angel Station is due from Dalkey Archive in May, and Petra Hůlová's taboo-breaking Plastic Three Rooms will be brought out by Jantar Publishing. Budding UK translators keen to be part of this unprecedented boom in Czech literature in English can participate in the fourth annual international competition for young translators, who this year are asked to tackle an excerpt from Bianca Bellová's The Lake by 31 March (see their call for submissions). Budding Czech-to-English translators can also dip into the treasure trove of tricky issues, complete with solutions generously shared by Melvyn Clarke, in his blog post Translating Hrdý Budžes.
Acclaimed writer Zuzana Brabcová, who sadly passed away in 2015, was posthumously awarded the Josef Škvorecký prize for her haunting last novel Voliéry [Aviaries]. And as the year drew to a close, scores of students and literature lovers mourned the loss of the legendary Fišer bookstore in Kaprova Street near Prague's Old Town Square, which closed its doors after selling books since the 1930s.
Editor-at-Large Poupeh Missaghi has this critical report from Iran:
During the final days of 2016, Iranians and fellow supporters around the world started tweeting #saveArash, making it the top trending Twitter hashtag worldwide on December 30.
The campaign supports the Iranian activist Arash Sadeghi, in jail with a nineteen-year prison sentence, who was on hunger strike for seventy-one days (longer than the world-famous, Irish Bobby Sands), protesting the six-year sentence given to his wife, Golrokh Ebrahimi Iraee. She was arrested on account of having written an unpublished story which includes a Quran-burning scene and which speaks against the religious punishment of stoning.
Besides the political significance of the Twitter campaign, which eventually led to Golrokh Ebrahimi being temporarily released and Arash Sadeghi ending his hunger strike, and the fact that she was arrested and sentenced for an "unpublished" story, there are other noteworthy aspects of the story for translators and language enthusiasts:
Tweets were exchanged arguing about the choice of language of these tweets. Some argued that the tweets should only be in Persian, because Iranians should not feed the warmongering foreign forces and their allies or beg them to save them; others responded by emphasizing the global nature of Twitter and the opportunities it provides for saving a life in the face of limitations in domestic media.
With the trending of the tweets, those who considered Arash and Golrokh a threat to the country and their imprisonment justified, started to question the authenticity of these tweets and their source. They suggested that these words were written not by humans, but produced by robots. The opposition camp began making fun of the claim by adding one variation or another of the clarification "I am not a robot" to their tweets.
The tweets included references to mythology. The name "Arash" comes from the mythological Persian story, Arash the Archer, mentioned in Avesta, Ferdowsi's The Book of Kings, and later turned into a poem by Iranian poet Siavash Kasrai in 1959. Some referenced this story or the poem to speak of Arash as a hero.
Instead of using their own words, many people used verses of poetry in their tweets. These came from a wide range of poets and traditions, from ancients such as Rumi, Hafez, Saadi, and Abu Said Abu-Alkheir, to modern voices including Nima Yooshij, Ahmad Shamlou (Bamdad), Houshang Ebtehaj (Sayeh), and Ibrahim Monsefi. References could also be found to other literary works and song lyrics.
This is perhaps not much of a surprise from a people who have always used poetry for various political and social campaigns, in their rituals and celebrations, and for whom poetry is, in one way or another, always a part of the daily life.
Based on recent news about Arash Sadeghi, he was taken to the hospital on Saturday, but was not admitted despite doctor's insistence, was returned to the prison, and has had to be taken to the prison clinic due to health issues several times in the past few days.
In addition to the #saveArash, there have been other Twitter hashtags, including #saveAli, #sosAli, #All4Ali, which are used to campaign for other prisoners currently on hunger strike, including Ali Shariati, who was arrested for protesting against acid attacks on women and is now on his seventy-fourth day of hunger strike.
Asymptote's London-based Editor-at Large, M. René Bradshaw, highlights the top literary events taking place in the capital in January and February:
Lectures: The Guardian Book Club hosts Michael Chabon at the British Library on January 17. Michael Longley, one of Northern Ireland's foremost poets, gives the 2017 W G Sebald Lecture at the Library on February 20. The new CULT BOOKS TRANSLATION COOK CLUB discusses Albertine Sarrazin's Astragal at Waterstones, Gower Street, on January 19; on January 25, Waterstones, Piccadilly holds a special evening highlighting the literature of Nigeria.
Theatre: The touring adaptation of Khaled Hosseini's internationally bestselling novel, The Kite Runner, opened at Wyndham's Theatre on January 9 (until March 11). James Macdonald directs multi-Olivier winner Imelda Staunton in Edward Albee's landmark play, Who's Afraid of Virginia Woolf?, at the Harold Pinter Theatre (February 22 to Mary 27). Actor Andrew Scott (from BBC's Sherlock) turns Hamlet on its head in director Robert Icke's new take at the Almeida Theatre (February 17 to April 8). Rosencrantz and Guildenstern are Dead returns to the Old Vic in an exultant revival marking its fiftieth anniversary, and starring Daniel Radcliffe (February 25 to April 29).
Festivals: "Revolutions," the theme of the 2017 LSE Space for Thought Literary Festival (February 20-25), commemorates the one hundreth anniversary of the Russian Revolution, as well as other anniversaries of revolutions in literature, politics, and society. The annual series, now in its ninth year, brings together free events featuring leading authors and academics to promote interdisciplinary thinking.
Exhibitions: The British Library, in collaboration with the Bodleian Library's collections, curates writings from Jane Austen's formative teenage years for the first time in forty years. Despite the exhibition's humble size, expect crowds thronging the Sir John Ritblat Treasures Gallery ("Jane Austen Among Family and Friends," January 10 to February 19).  The Southbank Centre's "Adventures in Moominland" exhibition, a celebration of Finnish illustrator and author Tove Jansson's beloved characters, continues until April 23.
*****
Read More Literary News Around the World: