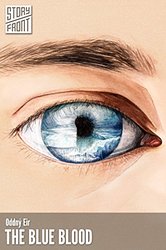 The Blue Blood by Oddný Eir, tr. Philip Roughton, Amazon's Day One. Review: K.T. Billey, Assistant Editor
The Blue Blood seems simple: a woman wants to have baby. Motherhood has always been "in her cards." She has found a partner who is game, and they love each other. They try everything, including multiple artificial inseminations from donors selected for their blue eyes—hoping the baby will approximate the father. Disappointment and hope begin to frame the narrator's consuming obsession: finding someone who can help with 'their problem.' Her search for a donor expands into the world, as heartbreak and determination test the limits of her relationship. The reader is privy to the narrator's pseudo-diary "As if recounting a clever story gives my life purpose…"
In a series of titled vignettes, The Blue Blood does more than chronicle the toll of dreams and bodily realities on our relationships. Blue is everywhere—signs, names, auras, eyes, oceans—a mystic slice reminiscent of Maggie Nelson's Bluets, revolving around fertility and the windows to the soul. The reader experiences the writer's symbology and suffers along with the woman struggling to read into and ignore them. We feel the weight of their accumulation, the damaging pressure. Desire and action are not enough. When is trying trying too hard? The nature of coincidence gets tangled with intimacy, confronting us with the what we cannot know, will, or hope into being. Of course the couple's vacation to Argentina finds them in a mountain village with a Nazi past and many blue eyed specimens. Of course they cannot neuter the dog.
The story is at once timeless and contemporary discourse. The narrator is well-versed in theory and set on enacting new paradigms, raising children with an enlightened perspective on gender and embodying progressive models of marriage. She's ready, physically, emotionally, and intellectually, up on the latest research and willing to do the psychological heavy lifting to care for and convince her partner. That lifting is immense—underpinning the ache of parenthood and at-risk love is a crucial subplot: that of the smart modern woman. She wants familiar relationship comforts without the bullshit. She wants a cool man who understands and incorporates his own femininity. She demands effort—the narrator complains of an ex-boyfriend who didn't even try "revolutionizing his masculinity in the light of a new era." And, perhaps most daring of all, she wants to relax. She wants to be 'guyish' like her partner. To remember her profession. She is a woman and a writer against a background of people she has either tried to be or could become if she's not careful: a "respectable lesbian," Mary Magdalene, grannyish, mommyish. She wants to conceive and she is told "It's definitely bad to be stressed and worried."
Underlying the narrative is the importance of not just storytelling but record keeping. Eir's work in museums—a doctorate on the political importance of archives, a history of research and curation—shines through in lucid hindsight. So too does the creative twist, the artist's ability to make in and out of strife. Much of Eir's writing explores the interplay between autobiography and alchemy, and The Bluest Blood is no exception. It is a story worth several readings, by an author to watch out for.
Philip Roughton is an astute match for Eir's direct and deceptively simple phrasing. Precise wording conveys loaded, arresting images while allowing them to speak for themselves. Roughton enables Eir's symbology to breathe without unspooling into lyricism, hitting repeated notes—the envelope the soul moves into, the womb, the colours, of course—ringing true but not on-the-nose. Dry humor has readers wonder whether the narrator is being sardonic or stating facts, and the story is stronger for questioning whether that distinction applies. She is aware and articulate, but no less devastated. Stark language mirrors reality as she slogs toward a shifting perspective, setting the stage for the final moment: the crash of nature and humanity that stuns but sets free.
Eir's novel Jarðnæði (Land of Love and Ruins) won the EU Prize for Literature and the Icelandic Women's Literature Prize. An English edition, also translated by Philip Roughton, is forthcoming from Restless Books in October 2016.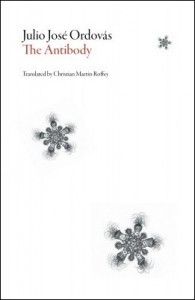 The Antibody by Julio José Ordovás, tr. Christian Martin-Roffey, Dalkey Archive Press. Review: Sam Carter, Assistant Managing Editor
Julio José Ordovás has recalled how his novel The Antibody began life as a "poem that consisted of a list of memories" in which "the most persistent…was the sound of bells." Unsurprisingly, this sonic recollection is echoed in the work's first lines, which also suggest an oblique citation of Hemingway in their terseness and the reference to tintinnabulation: "The bells tolled. My mom turned off the kitchen stove and looked out of the window." Unlike Ordovás, Hemingway was no poet, and, unlike Hemingway, Ordovás does not offer us what we would immediately recognize as a novel. One might even consider the title as a description of the way the work attempts to counteract dominant novelistic trends that value plot advancement over meditative imagery, clear chronologies over temporal confusion, and narrative unity over intermingled voices.
Published in Spanish in 2014 as El Anticuerpo, the 40-year-old Zaragoza native's first foray into the form of the novel leaves the reader in a position not unlike that of the narrator's mother behind the window: curious as to whether she might be experiencing a significant connection to some event but ultimately separated from it. The bells in those first sentences reach the mother without inspiring any real reaction or connection, and the same can be said of the way in which Ordovás's insistent poetic touch—which one Spanish critic characterized as "beautifully lyrical prose that's slightly overdone" and which translator Christian Martin-Roffey nonetheless deftly renders—never extends beyond a few flourishes on a structure that amounts to little more than a loosely-stitched-together list of memories. Expecting more developed or cohesive structures of a novel or imposing upon it a demand for something more immediately recognizable may be unfair, yet at points one wonders why Ordovás felt this work needed to become a novel and could not remain a poem. (Of course, publishing such a poem would doubtless have been much more difficult, and Ordovás already partly documented his struggle to write and publish a first novel in the diary Días sin día (2004).)
Narrating the nascent friendship between a mischievous adolescent reminiscent of a classic pícaro and a newcomer to the rural town where he lives, The Antibody is loosely concerned with the realities of early '80s Spain when it was in the midst of a dramatic reorientation after nearly forty years under the Franco dictatorship. The new arrival is a church vicar with a checkered past—one should note that the Spanish title also evokes "el anticristo" (the antichrist)—and his memories of this prior life ultimately constitute much of the novel's meandering storyline. During one such remembrance, which revolves around watching westerns with his father in a local theater, we encounter the following observation: "When a man a rides aimlessly, he's hiding something." Ordovás does not write aimlessly, but it feels as if he thinks there is something more profound hiding behind this translation of a poetically-inflected progression of recollections into a novel.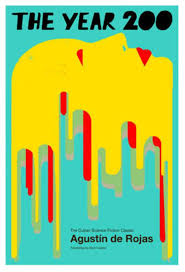 Year 200 by Agustín de Rojas, tr. Nick Caistor and Hebe Powell, Restless Books. Review by Selina Aragon, Spanish Social Media Manager
"The probe received the order to return. The bionic brain had decided it now had sufficient information to initiate the second phase of the program. Hydra II had to work quickly, making the best use of the time available before the darkness of the night lifted."
After hibernating for 200 years, the "Hydras"—robots controlled and sent by the Empire—are awake and pose a threat to the inhabitants of Tranquil Grove. Thus begins Agustín de Rojas' science fiction masterpiece, Year 200. The last book of De Rojas' famous science fiction trilogy takes the reader through an exploration of an idealised communist society in the future. But, what happens when the Empire minions wake up from a long dream and come back to rule once again in Tranquil Grove's utopian world?
Agustín de Rojas (1949-2011) is one of the most important figures in Cuban science fiction, which is the only science fiction branch in Latin America influenced by Soviet authors such as Ivan Efremov, and Arkady and Boris Strugatsky. De Rojas was also heavily inspired by other canonical science fiction writers such as Ray Bradbury and Isaac Asimov. Best known in the science fiction world for his trilogy Espiral (1982), Una leyenda del futuro (1985) and El año 200 (1990), the Cuban author believed science fiction allows people to hypothesise about the future and entertain ideas about the political and economic future of a country.
In Year 200, De Rojas' style gradually absorbs the readers and takes them into a realm where dream and reality are intertwined, environmental engineers dissolve the boundaries of their world and create artificial worlds for entertainment purposes, where love is witnessed and controlled—to some extent—by machines. Simultaneously, Year 200 invites its readers to take a leap of faith and believe that a better world is possible. The epigraph reads: "this book is dedicated for those who choose fear" so that it is not only an invitation but a challenge for those who dare to be imaginative and carried into the unknown, the uncertain future. Almost written as a defence of a decaying Soviet Union in 1990, Year 200 shows us De Rojas' vision for Cuba, a country which would flourish in the coming years while also criticising its current government and decisions. It seems an Oracle speaks in riddle giving the readers clues about the future, but it's up to us to unveil and discover the culture and ideology that differs from (capitalist) Western civilisations.
For the first time, Nick Caistor & Hebe Powell, translators of Year 200, have brought this masterpiece closer to the English-speaking public (alongside the Spiral and A Legend from the Future). They have created an opportunity to read and analyse the acclaimed author's literary achievement. Caistor and Powell open the doors not only to the world of science fiction in Cuba but the world that Marx, Engels and the Russian and Cuban politicians once envisioned communism. Year 200 is one of the most interesting readings of this year because, ultimately, it challenges the readers' understanding of the world and inspires optimism in a world that may seem full of darkness.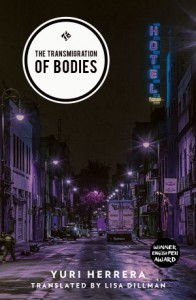 The Transmigration of Bodies by Yuri Herrera, tr. Lisa Dillman, And Other Stories Review: M. René Bradshaw, Editor-at-Large, United Kingdom
"The things people inscribe on tombstones, if only with their breath. I will love you always. I can never forgive you. Forget about me. I'll be back. You'll pay for this. Words that etch deeper than a chisel. Erasing those things was what the Redeemer was there for."
The Redeemer is a satyromaniac with a heart of gold. He's the thug-for-hire turned gumshoe who keeps digging when everyone ignores the truth, the broken-down action hero who snarlingly defends the corpse of an innocent girl from defilement. He's the Hemingway lone wolf (save the impotency, certainly), unwillingly compelled by some divine grace with a penchant for black humor. But he understands that his rap is first-rate baloney. "Don't know about you," he says to his neighbor, Three Times Blonde, a sexpot with a high aptitude for dishing philosophical sweet nothings, "but I make my living off the places people can't get out of."
The Transmigration of Bodies, published in English by And Other Stories this month, is set in a familiar genre universe, in which a plague is destroying civilization. But the novel also has the addictive pull of a detective yarn, a cosmic telling in which the clues do and do not add up to an articulate solution. In an unnamed city—though likely, given many of the characters' family names, one that is Spanish-speaking (Herrera was born in Actopan, Mexico)—in the very near future, the old guard has fallen. Cloistered away in this Verona's noirish underbelly, the Capulets and the Montagues have become daytime drunks with chips on their shoulders. They are the fatuous gentry in Cavafy's poem who have been silently waiting for the barbarians all their lives, except that the barbarians are some nameless, still-unconfirmed plague, and their hostages to be exchanged are already dead. Amongst a languishing, generally gas-masked population, which treats crimes against people and their bodies as if they were merely bad dreams, the Redeemer must dance with the dead in order to prevent massacre.
Herrera, who holds a PhD in literature from Berkeley, is decidedly not a writer's writer. To the benighted doomsayers who mourn the decline of high fiction, The Transmigration of Bodies could seem like a book that celebrates low culture. But it turns out not to be a genre novel, so much as a novel about genre. Herrera is a new literary sheriff in town, able to allegorize Shakespeare, confer gasp-worthy erotic pulp within the crumbling hideaways of an apocalyptic city, and largely save mankind from itself, while simultaneously tipping his hat to Raymond Chandler and Dashiell Hammett—all within 101 pages. Lisa Dillman's translation renders a sparse, hard-bitten poetics of urban life on the cusp (or instead, perhaps especially so, the delusion of it) which shines, blisters. In the midst of our anti-hero's rampant horniness and the story's atmospheric doom porn, simple, sweet phrases, such as, "She glistened like a wet street," will smack you squarely in the jaw.
*****
Read More from New in Translation: