ANNOUNCING THE WINNERS OF THE 2017 CLOSE APPROXIMATIONS CONTEST!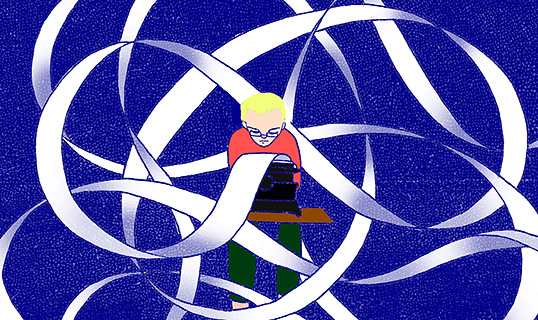 The results of our third Close Approximations translation contest are in! From 215 Fiction and 128 Poetry submissions, esteemed judges David Bellos and Sawako Nakayasu picked one winner and two runners-up in each category to receive 1,000 USD and 250 USD respectively! All winners are showcased in our
Summer 2017 edition
, and the judges' citations are below.
As always, this contest is made possible by your support for
Asymptote
. (Despite a London Book Fair award under our belt, we do not receive institutional support on an ongoing basis.) Sustaining members are the backbone of our mission to advocate for emerging translators, as well as for a more inclusive world literature. Help us toward another edition of our contest by signing up from as little as $5 a month! For a limited time, we'll even throw in a bonus e-book anthology of all the winning entries, with exclusive supplementary material.
Join the Asymptote family today!
Fiction Winner (judged by David Bellos):
Suchitra Ramachandran for her translation of B. Jeyamohan's "Periyamma's Words"

Fiction runners-up:
Brian Bergstrom for his translation of Erika Kobayashi's "See"
Clarissa Botsford for her translation of an excerpt of Elvira Dones' Burnt Sun

Poetry Winner (judged by Sawako Nakayasu):
Anca Roncea for her translation of Andra Rotaru's "wrong connections"

Poetry runners-up:
 Sarah Timmer Harvey for her translation of a selection of poems from Marieke Lucas Rijneveld's Calf's Caul
 Keith Payne for his translation of a selection of poems from Elvira Ribeiro Tobío's Welcome to Sing Sing

David Bellos' Citation
Thanks to the hard work of the
Asymptote
team, I was asked to read only the best thirty out of over 200 submissions for the
Close Approximations 2017 Fiction Prize
. A mostly enjoyable task, even if the picture of human life that emerges from these fragments of the global imagination is not a very happy one. Dystopian futurologists are writing in Russian, Spanish, Japanese and French; real-world topics treated in these and other languages include genital mutilation, the Balkan conflict, China's bad lands, the execution of an abortionist, and the special burden of having a Swiss
yidische mame
. Humour is not entirely absent, but it is less prevalent (and less funny, alas) than it probably would be in an equivalent sample of writing in English. What struck me also is that a significant number of the translators (whose names have not been revealed to me) must be working into L2 (some mistakes are give aways). I am not sure whether to say how impressed I am that non-native English speakers can get so near to perfect, or that more L1 English speakers must learn Bosnian and Korean and Turkish and Romanian and so on if most of the literatures of the world are to get a broad and respectful reception in the UK and the USA. 
There were several contenders for second place, but I have absolutely no doubt that the prize itself must go to the charming, wonderful, unusual story of "Periyamma's Words" by the Tamil writer
B. Jeyamohan
in
Suchitra Ramachandran
's translation. It tells of how an illiterate old lady from South India was taught some basic English before being sent to live in the USA—with word definitions being given out of traditional Indian stories in contrast and conjunction with classical stories from the West. By the same token it is also a lesson in learning Tamil (or rather, learning India) for Western readers. It is a witty and heart-warming tale illustrating the paradoxical position of translation itself, as a way of crossing boundaries and as a way of understanding what boundaries cannot be crossed.
Erika Kobayashi
's "See" earns its place as a runner up by imagining a world just like ours save for a craze for a pill called "See" that induces temporary blindness. People take it so as to go out on blind dates and drives to the sea. Read on! The English of the translation by
Brian Bergstrom
seems to me flawless.
In a different class and genre,
Burnt Sun
by the distinguished Albanian émigrée writer and film-maker
Elvira Dones
delves into the inner worlds of her compatriots forced into prostitution and exile. Translated by
Clarissa Botsford
from Italian, Dones's second language, Burnt Sun is both documentary and fiction, a crafted story and a powerful exposé.
All three of these pieces—and several more among the contenders—deserve to find publishers, fast! 
Sawako Nakayasu's Citation
I'm thrilled to have selected this year's winner for poetry: "wrong connections" by
Andra Rotaru
, in
Anca Roncea
's excellent translation from the Romanian. I love how this work reads like a film that can only take place in the mind of the reader. The scenes (I read them like scenes) carry you through a changing landscape that can be menacing, historical, scientific, or downright violent—all in torqued connection with each other like the "incorrect connections" of the tribar.
Ms. Roncea brings to our attention a new voice in contemporary Romanian poetry: Ms. Rotaru's work has already been translated into numerous European languages, but very little has been translated into English so far—though this is soon to be remedied, I believe.
The runner-up,
Calf's Caul
by
Marieke Lucas Rijneveld
, is in
Sarah Timmer Harvey
's translation from the Dutch. The tumbling syntax of this poetry could not have been easy to translate, but it works so very well here—carrying the reader along the dark swerves of this youthful, yet not-so-innocent series of mini-narratives with a touch of the surreal. The other runner-up is
Keith Payne
's translation of
Welcome to Sing Sing
by the Galician poet
Elvira Ribeiro Tobío
, who has spent time teaching writing and art in the prison system. This series of poems brings to light the fates of incarcerated women, some as famous as Ethel Rosenberg, or the Russian writer Yevgenia Ginzburg who spent 12 years in the Gulag system. "What more can an almost human ask for? A room, full board whose cost is counted in scars."
I was impressed and delighted by the whole process of judging this contest, and feel so much in agreement with
Asymptote
's mission to promote the work of newer translators, and writers whose works are not yet widely available in English. I hope these talented poets and translators, as well as many others who were in the submission pool, continue and thrive upon a long and fruitful path of translation.
* * *
David Bellos
(Fiction judge) was educated at Oxford and teaches French and Comparative Literature at Princeton, where he also directs the Program in Translation and Intercultural Communication. He has writen biographies of Georges Perec (1993) and Jacques Tati (1999) that have been translated into many languages, and an introduction to translation studies,
Is That A Fish in Your Ear? The Amazing Adventure of Translation
(2011). He has translated numerous authors from French (Perec, Vargas, Kadare, Simenon, Antelme, Fournel) and offers a new understanding of the extraordinary life and work of Romain Gary in
Romain Gary: A Tall Story
(2010). He has just published a book about
Les Misérables
.
Sawako Nakayasu
(Poetry judge) was born in Japan and raised in the US, and has also lived in France and China. Her books include
The Ants
(Les Figues Press) and
Texture Notes
(Letter Machine), and recent translations include Tatsumi Hijikata's
Costume en Face
(Ugly Duckling Presse) and
The Collected Poems of Sagawa Chika
(Canarium Books), which won the 2016 PEN Award for Poetry in Translation. Other books include
Hurry Home Honey
(Burning Deck) and
Mouth: Eats Color – Sagawa Chika Translations, Anti-translations, & Originals
, which is a multilingual work of both original and translated poetry. Her translation of Takashi Hiraide's
For the Fighting Spirit of the Walnut
(New Directions) received the 2009 Best Translated Book Award from Three Percent. Nakayasu has also appeared on Japanese television as a poetry judge, performed in a re-enactment of Yvonne Rainer's Grand Union Dreams (dir. Yelena Gluzman) as well as in Cornelius Cardew's Paragraphs 4 & 7 from The Great Learning (dir. Tomomi Adachi).