Asymptote reviews two new publications—a collection of short stories and a novel—by Roger Lewinter, born in 1941 in Montauban, France. The author currently lives in Switzerland and has worked as a writer, editor, and translator. These are two of his three works of fiction to date, and their publication with New Directions is Lewinter's first appearance in English, in translations by Rachel Careau.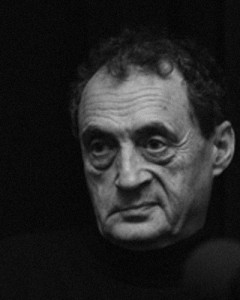 Story of Love in Solitude by Roger Lewinter, tr. Rachel Careau, New Directions
Review: Thea Hawlin, Social Media Manager
New Directions certainly lives up to their name with this exciting new foray into the work of a long neglected French author. Story of Love in Solitude marks the first translation of Roger Lewinter into English. Lorenzo Valentin has compared Lewinter's writing to "a Kashmir shawl in its infinite interlacing, woven in one piece and from a single thread" and the description is apt. The continual lacing of Lewinter's prose is a beguiling process; it may confuse and frustrate, but in its complexity it also points to beauty.
This short but sweet collection combines three of Lewinter's tales, 'Story of Love in Solitude', of the title, 'Passion', and 'Nameless'. Intriguingly, rather than a facing-page translation, the publishers have decided to starkly separate the translation and its original counterpart in the book. This makes cross-referencing a lot more of a challenge, but equally forces the reader to take time with the translations and appreciate them as independent from their origin.
The first, and most lyrically titled of the three, begins with an all-too familiar scenario—spotting a spider before heading to bed. Except this occurrence becomes a sinister loop. The next night, another appears and the pattern continues. The scenario is episodic, a simple commentary in which the brevity of the encounters is such that they hardly have room to develop before being suddenly cut off.